Westminster College Department of Economics and Business to Welcome the Stand-Up Economist
Posted on Friday, April 5, 2013
NEW WILMINGTON, Pa. - Westminster College's Department of Economics and Business will welcome Yoram Bauman, the Stand-Up Economist, Thursday, April 11, at 7 p.m. at the Mueller Theater in the McKelvey Campus Center.
Bauman, "the world's first and only stand-up economist," performs regularly at colleges and corporate events, sharing the stage with everyone from Robin Williams to Paul Krugman. He has appeared in TIME magazine and on PBS and NPR, and is the co-author of the two-volume Cartoon Introduction to Economics. He is also the organizer of the humor session at the annual meeting of the American Economic Association.
This event is exclusively for the Westminster College community.
Yoram lives in Seattle, where he founded Non-Profit Comedy, a series of benefit shows that raised almost $100,000 for local non-profits. He earned his undergraduate degree in mathematics from Reed College and a Ph.D. in economics from the University of Washington.
His goals in life are to spread joy to the world through economics comedy; to reform economics education; and to implement carbon pricing. He is a fellow at Sightline Institute in Seattle, and he spent five months in Beijing as a visiting scholar at the University of International Business and Economics in 2011.
Contact Dr. David Cushman at (724) 946-7169 or email for more information.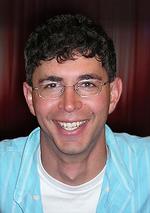 ---
More Stories