Westminster College Associate Professor and Students Attend MidSouth Philosophy Conference
Posted on Monday, March 25, 2013
NEW WILMINGTON, Pa. - Dr. David Goldberg, Westminster associate professor of philosophy, and five students attended the MidSouth Philosophy Conference in mid-February at Rhoades College in Memphis, Tenn.
The following students attended the conference:
Sarah Avery, a senior English major, is a daughter of Charles and Andrea Avery of Hookstown and a graduate of South Side Area High School.
Jaclyn Miller, a senior philosophy major, is a daughter of Larry and Beverly Miller of Negley, Ohio, and a graduate of Beaver Local High School.
Maddison Welton, a junior psychology major, is a daughter of William and Michelle Welton of Waterford and a graduate of Fort Le Boeuf High School.
Kevin Winner Jr., a senior philosophy major, is a son of Kevin and Cherie Winner of Hermitage and a graduate of Hickory High School.
Lauren Yost, a senior history major, is a daughter of Thurman Yost and Donna Davis-Yost of Rosharon, Texas, and a graduate of Abilene High School.
The keynote speaker was Pam R. Sailers from Missouri State University. Her presentation, "Escort Service? Not on the Record," discussed the problem of escort runners pacing women and men during races, a practice with top athletes, and the way in which the officiating committee has handled the practice differently for women than men.
The conference also included presentations on such topics as "Living in Agreement: Stoicism and Daoism on the Sage," "The Problem of 'Intuition," "Hermeneutics and Free Will in Dante's Paradiso 4," and "Love as the Middle in the Teaching of Philosophy: A Lacanian Turn in Plato's Symposium."
The Westminster College philosophy major is part of the Department of Religion, History, Philosophy and Classics. Philosophy, a critical and reflective discipline, fosters transferable skills applicable to most careers and fields of study. It may be teamed with virtually any other major in order to add depth and breadth to another discipline. The major curriculum includes the courses "Problems of Philosophy," Practical Logic," "The History of Philosophy," "Topics in Philosophy," and "Practical Ethics." The curriculum also includes a philosophy capstone course, required of all majors, to prepare them for the challenges of publication in the field.
Goldberg, who has taken Westminster students to this conference for 11 years, joined the Westminster faculty in 2002. He earned undergraduate and master's degrees from Pennsylvania State University and Ph.D. from Duquesne University.
Contact Goldberg at (724) 946-7153 or email for additional information.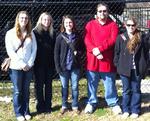 ---
More Stories