Westminster College Sports Broadcasting Students Work Cleveland Cavaliers Game
Posted on Friday, January 25, 2013
NEW WILMINGTON, Pa. - Fourteen Westminster College students were given the opportunity to cover the Cleveland Cavaliers versus Milwaukee Bucks NBA game as members of the media Dec. 14 at the Quicken Loans Arena in Cleveland.
The students were from the fall semester's "Sports Broadcasting" course. The course includes instruction and experience producing and delivering broadcast sports reports for radio and television newscasts and the web. Emphasis is on sports writing, sports photography and videography. Ryan McNaughton, adjunct professor and course instructor, wanted to end the semester with a chance for the students to experience a day in the life of a professional journalist.
"One of the most important things I felt I needed to happen when creating the syllabus was to provide a real-world learning experience. I wanted to make this course more hands-on than it had ever been," McNaughton said. "It took several months of planning and, thanks to Cavaliers Director of Communications Operations and Service Amanda Petrak, we pulled it off."
The students were credentialed and had access to most of the same areas as the media. They attended pre and post-game press conferences of Cavaliers' Head Coach Byron Scott and McNaughton introduced the students to broadcasters he had worked with in Cleveland sports radio. Additionally, the students sat courtside during pregame warm-ups.
"It was a great experience and something I am going to remember for the rest of my life," said Jarred Treshok, a junior broadcast communications major. "It helped us relate to everything we have talked about and read in class. We have discussed what goes on in a normal day for a media member. We really did not appreciate what they do until we got to experience it. It took everything to a whole new level."
"It's one thing to read about what it takes to be a successful and driven journalist, or hear from professional broadcasters in class," McNaughton said. "It's quite another to experience it in a 20,000 seat arena, with access to coaches, players, and other media members. Nothing beats doing what it is you want to do, in anything in life. My hope is that this experience may inspire some of these students to work hard enough and network to get work in a major market down the road. For those who will not pursue this field, I think it's valuable to them to have seen how what we learned and completed in the classroom get implemented at the next level."
Contact McNaughton at mcnaugry@westminster.edu for additional information.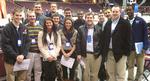 ---
More Stories