Westminster College Education Majors Receive Drinko Research Grants, Present Research at Conference
Posted on Thursday, January 17, 2013
NEW WILMINGTON, Pa. - Nine Westminster College senior early childhood/special education majors received undergraduate research grants from Westminster's Drinko Center for Experiential Learning and presented their research at the Pennsylvania Council for Exceptional Children (PACEC) Convention in November.
"The Kindle Project II" examined whether reading the Kindle versus reading a regular hardbound book would help students with learning disabilities with reading comprehension and fluency. For 12 weeks the Westminster students monitored 60 students in grades 6-8 at a middle school in the suburbs of Youngstown, Ohio. Half the students were given a Kindle to use and all students were instructed to read 90 minutes a week. The Westminster students tested the middle school students four different times on their reading fluency and comprehension skills. The results showed that all students had improved comprehension and fluency simply because they were forced to read more and had a set time to read.
"The research we conducted was a very beneficial experience. It took everything we've discussed in class and applied it," Amber Yanchar said. "This project allowed us to actually get involved and witness first-hand how to assess and improve reading comprehension/fluency. Not only did we learn a lot from this project, but so did the cooperating school. They didn't have a set system to monitor and assess their students' reading comprehension and fluency. Now they have implemented a progress monitoring system throughout the district."
At the PACEC conference the Westminster students presented an oral and PowerPoint presentation on their research and results. Additionally, the students were able to attend informational sessions on topics such as technology, autism, and behavioral interventions. They also were able to interact with many vendors, educational organizations and companies - resources that will be beneficial to the students once they are working in a classroom.
The students will present again at the Westminster Undergraduate Research and Arts Celebration April 24. Over 200 students from all forms of disciplines who have engaged in scholarly research and creative projects will participate.
The students' advisers on this project are Dr. Amy Camardese, associate professor of education and chair of department, and Dr. Eileen Morelli, associate professor of education.
Contact Camardese at (724) 946-7183 or email for additional information.
The Drinko Center for Experiential Learning was created to enrich undergraduate education at Westminster through advancing world-class teaching as well as by participating in collaborations that address community and regional needs including strengthening K-12 education.  The Undergraduate Research Initiative provides funding for students to conduct research and to present their research at regional and national conferences. 
Visit www.westminster.edu/drinko for more information about the Drinko Center and its programs.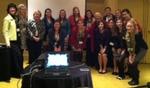 ---
More Stories