Mathematics Honor Society Inducted New Members
Posted on Thursday, March 31, 2011
The Westminster College chapter of Kappa Mu Epsilon mathematics honor society inducted 13 new members at a dinner and ceremony March 10.
The event was held at the home of Dr. Natacha Fontes-Merz, Westminster associate professor of mathematics and Kappa Mu Epsilon adviser.
New members include: William Armentrout, Anthony Caratelli, Todd Changoway, Branislav Cikel, Bethany Ekimoff, Christina Erceg, Lisa Kaylor, Andrew Kieffer, Timothy Matyas, Jaclyn Miller, Hannah Raihall, Sydney Spain, and Chelsea Wesp.
The induction ceremony was led by the officers: Heather McQuiston, president; Coty Hainsey, vice president; Aaron Zavora, secretary; Jonathan Bodle, treasurer; and Stephen Donnel, public relations chair.
Kappa Mu Epsilon, a national honor society, was founded to promote the interest in mathematics among undergraduate students in colleges and universities that offer a strong mathematics major.  Members are selected from students in mathematics and closely related disciplines who have maintained standards of scholarship, have professional merit, and have attained academic distinction.
Contact Fontes-Merz at (724) 946-7290 or email fontesnc@westminster.edu for additional information.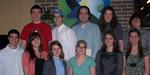 ---
More Stories