College to Host Speaker on United Nations Reform
Posted on Monday, March 21, 2011
Westminster College will host Dr. Trudy Fraser for "Reforming the U.N.: A Never-Ending Task?" Thursday, March 24, at 3:30 p.m. in the Sebastian Mueller Theater of the McKelvey Campus Center.  The program is free and open to the public.
Fraser received a University of St. Andrews doctoral scholarship, writing her thesis on United Nations reform.  Since January 2010, she has been a doctoral fellow at the University of Pittsburgh's Matthew B. Ridgway Center for International Security Studies.  In 2009, she consulted for the United Nations Association of the United Kingdom and, during 2008, was a Jeannette Short Fellow on United Nations Reform at the World Federalist Movement Institute for Global Policy in New York.
She is co-editor of Issues in International Relations (Second Edition) and has written several articles and papers about the United Nations.
Her appearance is sponsored by Westminster's Model United Nations student organization and Department of Political Science and Sociology.
Model United Nations at Westminster prepares its members to be leaders of the greater global community through learning about the world and its numerous cultures and social and political systems.
Contact Dr. Michael Aleprete, Westminster assistant professor of political science and Model U.N. faculty adviser, at (724) 946-7254 or e-mail alepreme@westminster.edu for additional information.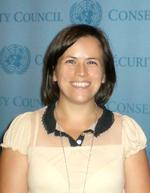 ---
More Stories