Public Relations Lecturer Presented at Language Conference
Posted on Thursday, December 2, 2010
Delores "Dee" Natale, Westminster College public relations lecturer, presented a paper at the 82nd annual South Atlantic Modern Language Association Conference Nov. 4-7 in Atlanta.
The conference featured more than 225 sessions and focused on the interplay of text and image in written works.
Natale's presentation, "Eat, Pray, Love Southern-Style: The Family Reunion in Losing Battles," was part of a three-person panel in the session "Losing Battles and Welty's Complex Interplay of the Visual and the Verbal."
"I argued that author Eudora Welty didn't need to take her characters out of Banner, Miss., to show the richness of life," Natale said. "The paper highlighted Welty's extraordinary grasp of both character and voice in her portrayal of family life in the Deep South. Welty intertwines food, religion, and love throughout her descriptive exposition of a family constantly involved in dialogue."
Natale was pleased to hear positive comments from graduate students and Welty scholars following the presentation: "One grad student is considering research related to culinary references in literature, while one Welty scholar is considering changing her syllabus to focus on Losing Battles at the beginning of the semester, rather than saving it for last."
Natale, who earned undergraduate and master's degrees from Westminster, joined the faculty in 2001.
Contact Natale at (724) 946-7348 or e-mail nataleda@westminster.edu for additional information.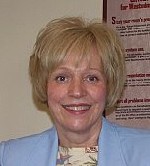 ---
More Stories