Chemistry Major Receives Award
Posted on Monday, June 1, 2009
Andrew Davic, a 2009 Westminster College graduate, received one of 30 College Chemistry Awards from the Society of Analytical Chemists of Pittsburgh (SACP) at its May 11 meeting.
Davic is a son of Alexander and Sandra Davic of Elizabeth and a graduate of Elizabeth Forward High School. He plans on enrolling in the Ph.D. program in chemistry at Duquesne University in the fall.
In addition to a monetary award and framed certificate for the honorees, each student's college library fund received a check and a commemorative plate with the student's name. The chemistry department at each institution received an engraved name plate to add to the plaque recognizing past award winners.
Davic's research, "Trace Detection of Converted and Fluorescently Tagged Primary Fatty Acid Amides (PFAMs) Using HPLC Coupled with Fluorescence Detection," was presented as a poster at Pittcon 2009 in Chicago in March.
Contact Dr. Helen Boylan, Westminster associate professor of chemistry, at (724) 946-6293 or e-mail boylanhm@westminster.edu for additional information.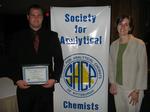 ---
More Stories