Students Attend Neuroscience Conference
Posted on Monday, November 20, 2006
Two Westminster College professors and six students recently attended the Society for Neuroscience Conference in Atlanta.
Dr. Alan Gittis, professor of psychology, and Dr. David Goldberg, assistant professor of philosophy, collaborated on a poster that described their cluster course on philosophical and neurobiological aspects of the mind. Gittis also presented a poster, coauthored by Lindsay Weber, class of '06, titled "Local Decisions in the Radial Arm Maze." It argued that the spatial decision-making used in some experimental settings really derives from more simple heuristic mechanisms.
Two of the students, Veronica Geretz, a sophomore psychology and philosophy major from Norwalk, Ohio, and David Mills, a sophomore exploratory major from Latrobe, displayed this poster at the Faculty for Undergraduate Neuroscience poster session held at the conference.
Contact Gittis at (724) 946-7358 or e-mail at gittisa@westminster.edu or Goldberg at (724) 946-7153 or e-mail goldbedw@westminster.edu for more information.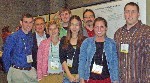 ---
More Stories