"Winnie-the-Pooh Christmas Tale" Coming to Westminster College
Posted on Friday, November 16, 2001
"Winnie-the-Pooh Christmas Tale" is coming to Westminster College Saturday, Dec. 1, at 11 a.m. and 8 p.m. at Beeghly Theater.
The show, which is geared to children of all ages, centers around the characters of the 100-acre wood trying to find Eeyore's tail. There is lots of singing as the group tries to find the tail, and cheer up Eeyore before the Christmas Eve party.
In addition, the Alpha Psi Omega, a Westminster's theatre honor society, has invited 13 area elementary schools to shows Thursday and Friday, Nov. 29 and 30. So far, several schools from Sharon, Farrell, New Castle and New Wilmington are scheduled to attend.
The Dec. 1 shows are free and open to the public, but a donation will be taken. Reservations can be made after Nov. 26 at the Beeghly Box Office, (724) 946-7241 or, if they are available, tickets can be obtained at the door.
For more information, contact director Margaret Tommarello, senior theatre major from Bovard, at (724) 946-7789, or production manager Katrina Kayden, junior theatre major from Barnesboro, at (724)946-6770.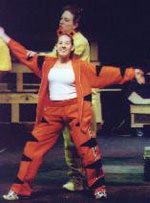 ---
More Stories