The Westminster College Drinko Center for Excellence in Teaching and Learning awarded a travel/presentation grant to Bryan Bischof, a Westminster senior mathematics major, to present "Framed Link Vector Space of Chord Diagrams" at the Young Mathematician's Conference in Columbus, Ohio.
---
Westminster College will host the 13th annual Mercer Mustang Band Show Saturday, Sept. 20, at 7 p.m. at Burry Stadium.
---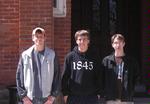 Three students represented Westminster College at the annual East Central Colleges Undergraduate Mathematics Competition April 4 at Otterbein College in Westerville, Ohio.
---
Dr. Andrew Ade, Westminster College associate professor of English, was awarded one of six 2009 Kennedy Center National Teaching Artist Grants.
---
Scrawl, the Westminster College student literary arts publication, will sponsor an all-day Writers Festival, Friday, Oct. 22, in the Berlin Lounge of the McKelvey Campus Center. The event is free and open to the public.
---
Nine Westminster College students were awarded master of education degrees at Commencement exercises May 21.
---
Westminster College's "Get Real!" life preparation series will present "World Events and You" Tuesday, March 13, at 12:45 p.m. in the Witherspoon Lakeview Room of McKelvey Campus Center.
---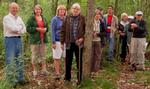 NEW WILMINGTON, Pa. -Trails are made for walking.  A dozen representatives of the North Country Trail Association (NCTA) proved this on Wednesday, August 14.  Their trek at the Field Station was just one of the field excursions linked with the annual meetings held this year at Slippery Rock University.  Hikers hailed from Michigan, Minnesota, New York and Pennsylvania.  They came, they saw, they hiked! 
---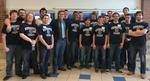 The Westminster College Men's Chorus participated in the 11th annual "Mucho Macho Music" festival Tuesday, Nov. 4, at Trinity High School in Washington (Pa.).
---
Dr. Ariane Chebel d'Appollonia, a professor from Sciences Po, an internationally-known French university, will speak at Westminster College Thursday, Oct. 7, at 4 p.m. in the Berlin Student Lounge located in the McKelvey Campus Center.
 d'Appollonia, who has also taught classes at Stanford University, Columbia University, New York University, University of Southern California, Delaware University, Middlebury College, Smith College, and Hamilton College, will discuss her area of expertise, "Multiculturalism and Immigration."
 The event, which is free and open to the public, is co-sponsored by Peace Studies and Modern Languages.  For more information, contact Dr. Carol Bove, professor of French at Westminster College, at (724) 946-7303 or e-mail cbove@westminster.edu.
---
Displaying 4071-4080 of 5141 total records