Symbols
(September 2002)
Throughout its history Westminster College has been home to many unique young people, each very special unto him or herself. One such student, more than a half-century ago, was Merritt Reynolds, Jr. His time with us was brief but precious; his legacy is exemplary.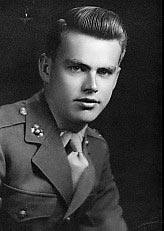 Merritt was a young man whose potential for future greatness was evident from the beginning. That potential was both realized and cut tragically short when he made the ultimate sacrifice of his life on the blood-drenched beaches of Iwo Jima during the American assault in February of 1945.
In a poignant memoir sent to the author, his brother Richard related:
From my earliest memories my brother has been a larger than life figure. I was 13 years my brother's junior. I was only 10 when he met his death on Iwo Jima in 1945. What I know about him was largely gleaned from Fortune magazine and newspaper articles and, most notably, family conversations and legends.
I remember enjoyable occasions when he came home from Westminster on the weekends and then riding back with him along with my father and mother. He was the president of the fraternity, which is now Sigma Nu on Westminster campus. . .
He was also president of his class at Westminster, as he had been at New Castle High School. In his high school yearbook beside his picture it said, "There lives no greater leader." Fortune wrote of him as one of the most promising graduates of New Castle High.
But it went on to say that in those waning days of the Great Depression there was little opportunity in New Castle. . . I believe that it was then that he went to CCC Camp in New Mexico. He also attended New Mexico State College at that time. Ironically, the symbol of that college was one of the ancient symbols of the native Americans of the Southwest, the swastika. This sign was on the cover of his yearbook from the New Mexico college. It was one of the signs, subsequently made evil, along with the rising sun whose shadow crept over him, and so many of America's promising youth, in the years that followed; and which eventually were the harbingers of his death. I remember that he was invited to a "party" on the White House lawn by Mrs. Roosevelt. He was probably invited due to his listing in Who's Who in American Colleges and Universities, but I am not sure. There were many family anecdotes about that as well as how he had to "hitch a ride" in box cars in order to get to New Mexico. Someone wrote a poem about that adventure and it was always a part of my family's "archives." . . .
He had to leave Westminster, just shortly before he would have graduated, in order to get into the Marine Corps Reserve. He went through Reserve Officer Training School (he trained so hard and long for what were to be moments of battle) and came home for what was to be his last leave. When I saw him, for the last time, I was a boy about nine years old. I was playing with, of all things, a toy landing barge (another harbinger) and he said that when he came home "to stay" he would repair it for me. I never saw him again. He was killed along with thousands of others on that "dirty little island." Those were among the words that my mother screamed, and were etched forever, at ten years of age, on my memory, as she received THE telegram. I still have that telegram as well as the Purple Heart that he was awarded posthumously. . .
Reverend John Galbreath, Class of 1941, continued the story in a letter to Richard Reynolds:
Dear Dick,
It was so good to hear from you. Day before yesterday was the 47th anniversary of Merritt's death. And your letter sent me back to the file of correspondence Joan had kept. I enclose a couple items mentioning Merritt. I was not permitted to mention his death in my correspodence home until I had a letter confirming that your family had received official notification. That was frustrating, for our parents kept close touch, and my mail was saying nothing, as though I was unaware or uncaring.
My first Navy assignment was to San Diego Hospital, intending that I spend a year under a strong Senior Chaplain, for I was just out of seminary and inexperienced. However, I was there six weeks when a chaplain in the 13th Marines was apparently alcoholic and had to be replaced before the regiment left for Hawaii and, ultimately, for combat. I was close by! I did not even know Marine rank. You see, Marine chaplains are actually Navy chaplains assigned to Marines for duty. I was a shook kid.
When I joined the regiment, one of the young lieutenants, Bill Freedman, said he had seen Joan before (we had been married at the College chapel en route to San Diego). Bill was from Trenton -- and Joan had never been there. Next day, he said, "I know where I saw Joan. It was a Freshman picture in a Westminster College yearbook!" Obviously, I asked whose yearbook, and he said it was Merritt's. I had no idea Merritt was in the outfit. He had already been shipped to Hawaii. So I was his chaplain. Our tents were about 100 feet from each other, when I arrived there.
Merritt and I had been close friends in college, though he was a year behind me. We had been debate partners. And in the summer we had both worked at Sharon Steel. On graduation, I headed for seminary and ultimately enlisted in the chaplaincy. We lost track of one another.
We buddied a great deal in the four months in Hawaii -- visiting the island, sharing letters from home, etc.
When we had our rehearsal for the assault, Merritt and I shared the same fox-hole on Maui, with the intent that when we landed at Iwo, we would be together. Merritt was Reconnaissance Officer for his battalion, going in in the early waves with infantry to locate the position where his howitzers would be placed. . . . he never got off the beach. We had gone by different ships, so I never saw him after we left Hawaii. After the "rehearsal," we did have liberty at Honolulu. We missed several attempts to get together, but did get together with a dozen or so Westminster men and had a reunion the night before we sailed. My notes indicate that he had several dates that, somehow, took precedence. He was such a handsome devil.
You had a very tough act to follow. Merritt had everything -- highly intelligent, motivated, winsome, idealistic. He wanted to go into politics, and I keep wondering where he might have gone in his career. One of his buddies, Bernie Conable, recently retired as head of the World Bank. Your parents had such ambitions for him. Your Mom told him as a child, "You are going to be a great man some day and you must prepare for it now." He told me this, and I feel it was a part of his deep motivation.
Eddie Bollard was with Merritt and me in Honolulu just before we pushed off. Eddie had had severe action in Saipan, and was to be with the 4th Division tanks on Iwo.
Bill Freedman, who recognized Joan's picture, was Jewish, I believe, but agnostic. After Merritt's death, he came to me and said, "I want you to come to his grave with me and pray." I could always count on Bill's bringing a truck load of Marines to services when we returned to camp.
As noted in the enclosed, when I landed, I immediately started to look for Merritt. I didn't get a direct answer when asked for him, but was passed on to others. I figured if I did not find him, I had better look for a big hole. When I gave up looking, I searched for a particularly large crater apparently made by one of our 16" shells. I could no longer find it. That night, there was a call to the corpsman with whom I finally bunked. We went together to where casualties were. It was the crater I had looked for earlier. Ten of the twelve guys were dead. One was evacuated, and the 12th, critically wounded, was the one who said, "I want to tell you how badly I feel about Lieutenant Reynolds. I know he was your friend."
At a 5th Division reunion in Chicago in 1953, I told of Merritt's life, death, and the above account. After the memorial service, a man came up and said, "I was the twelfth man." When at the close of the war, I was asked to speak to a high school assembly near Norfolk, I told the story of Merritt's life, and how I felt I needed to broaden my shoulders to pick up some of the ministry that he left undone. A few years ago (40 years later), a stranger, hearing my name, came to me and told me he remembered that message from his high school days. Merritt's inspiration has been profoundly felt.
I often felt that following a brother like Merritt must have been quite a burden. How does a son fulfill all the expectations that had been lost in his brother's death? I know you have found your own personhood, and fulfilled your own call. But I felt there must have been very difficult times. . .
In his correspondence with the author, Richard Reynolds provides an epitaph for Merritt:
My brother was a part of that golden age of America when it was firmly believed that our country could achieve and indeed was destined to achieve leadership in a brave new world which was getting better in every way every day. His personal motto was that statement of Thomas Paine, "We live to improve or we live in vain."
[This memoir, as well as that of Reverend John Galbreath, is included in When Titans Truly Were: Westminster College and the Second World War by Dr. Sharkey.]
Eugene G. Sharkey, professor of history and Peace Studies Program co-coordinator