Westminster College Professor Revives World War II Memories
NEW WILMINGTON, Pa. -- The Second World War transformed the lives of an entire generation of men and women, including nearly 400 Westminster College alumni. The wartime experiences of many of these individuals is the subject of a new book, When Titans Truly Were, Westminster College and the Second World War, by Westminster professor of history Dr. Eugene G. Sharkey.
The 552-page, hardcover text includes nearly 400 memoirs of Westminster alumni, faculty, administrators, and board members. Recapturing the heroism and humanity of the war through personal anecdotes and reminiscences of Westminster alumni has been a seven-year labor of history and homage for Dr. Sharkey.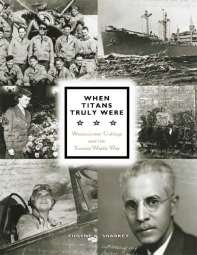 "This book is the single most gratifying piece of research and writing I've ever done," he said. "The nature of the people with whom I've dealt, their extraordinary cooperation, modesty and literacy, is exemplified in the poignancy of their stories."
When Titans Truly Were is available at the Westminster College Bookstore. Cost is $25 if picked up at the Bookstore, and $35 if shipped. Supplies are limited, and copies can be reserved by calling the Bookstore at (724) 946-7216.
Sharkey, professor of history at Westminster College since 1972, received his undergraduate degree in English and history from Rutgers University. He earned his master's degree in U.S. diplomatic history at Fairleigh Dickinson University and returned to Rutgers for his doctorate, focusing on Latin American history. The Belleville, New Jersey native was awarded research and teaching fellowships at both institutions.
A frequent lecturer and contributor to professional journals, Sharkey's writings have been published in McGraw-Hill Encyclopedia of Latin American History and Rutgers Library Journal, among others. Awards and honors include being named Henderson Lecturer at Westminster College in 1993; being chosen as an East Central Colleges exchange lecturer for the 1987-88 academic year, during which he spoke at five campuses on "Andy Hardy & the Kingdom of Guatemala: U.S. Policy Towards Central America."