At Westminster College, there are limitless opportunities to lend a helping hand. Below are just a few service opportunities provided by the Office of Faith & Spirituality.
Habitat for Humanity
---
The Westminster College Chapter of Habitat for Humanity is affiliated with the Mahoning County Habitat for Humanity in Youngstown, Ohio. Each year, a group of students join this chapter and agree to become integral members of this community by attending regular meetings, participating in scheduled work days. These students may also have the opportunity to attend a Spring Break trip.
View the 2019-2020 Academic Year Meeting Schedule. Meetings are at 11:45 AM in Conference Room 255 in the McKelvey Campus Center on the following dates: September 4 & 18, October 2 & 23, November 6 & 20, December 4, January 22, February 5 & 19, March 18, April 1 & 15.
Scheduled Saturday Work Days from 7:30 AM to 4:00 PM are: September 7 & 21, October 5 & 26, November 9 & 23, December 7, January 25, February 8 & 22, March 21, April 4 & 18.
Learn more about the upcoming Spring Break Collegiate Challenge Work Trip. This year, the trip will be held the week of March 7-14, 2020. If you are interested in signing up for this work trip, contact Rev. Jim Mohr. Attendees are required to participate in fund raising events and pay a minimal registration fee of $25.00.
Mission Work Trips
---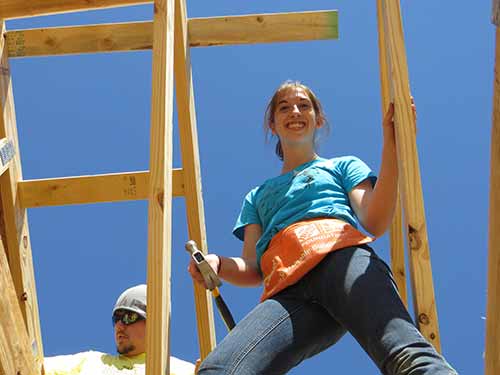 The Spring Break 2020 Work Trip will be taken the week of March 7-14, 2020. The destination is to be determined. Participants are required to make a deposit and participate in fund raising programs.
Experience Alaska is an experiential trip through volunteer work, development of relationships, spiritual reflection, and vocational discernment. Students will blog their experiences and develop a video documentary highlighting the people they met, the work they were able to do, and the places they were able to visit. The Experience Alaska Trip will be offered every other year. The next trip is being planned for May 2021, exact dates to be determined. Those attending will need to participate in fund raising events and pay a registration fee (yet to be determined) and participate in pre-trip planning and education sessions.
Volunteer Service
---
Volunteers In Service and Action teams are under the direction of the Office of Faith & Spirituality. These service teams consist of dedicated students who are willing to volunteer their time and energy to one or more programs in the area. Projects include tutoring programs, youth rehabilitation work, adopt a grandparent, church youth work, crisis hotlines and more.