Requirements for the Instrumental Performance Major (Bachelor of Music)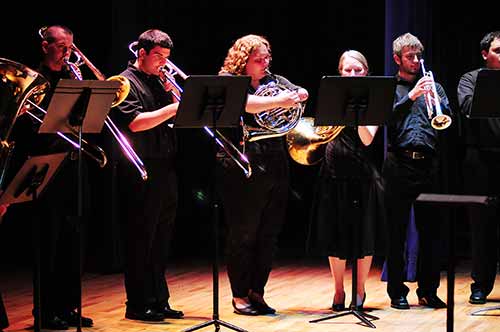 Why Study Music Performance at Westminster?
2 hours of private lessons per week included in the cost of tuition

Many performance opportunities on and off campus

Our students go on to top graduate programs
Music Courses:
MUS 121 Music Theory 1 AND MUS 121L Music Theory 1 Aural Skills Lab
MUS 122 Music Theory 2 AND MUS 122L Music Theory 2 Aural Skills Lab
MUS 123 Music Theory 3 AND MUS 123L Music Theory 3 Aural Skills Lab
MUS 124 Music Theory 4 AND MUS 124L Music Theory 4 Aural Skills Lab
MUS 125 Form & Analysis
MUS 126 Orchestration
MUS 127 Modal and Tonal Counterpoint OR MUS 129 Seminar in Music Theory
MUS 141 History of Western Music to 1750
MUS 142 History of Western Music from 1750
MUS 167 Symphonic Literature
MUS 168 Band Literature
MUS 200-205 Pedagogy (1 semester hour in the primary area)
MUS 212 Woodwind Instrument Repair OR MUS 213 Brass Instrument Repair (strings, percussion TBA)
MUS 271 Basic Conducting
MUS 273 Instrumental Conducting
MUS 397 Junior Recital
MUS 411-417, 442 Chamber Music (7 semester hours)
MUS 600 Music Colloqui
MUS 600L Instrumental Performance Lab
MUS 600M Master Class, lab for private lessons
MUS 601 Capstone Recital
15 semesters' private study in primary instrument
8 semester hours of large ensembles
4 semester hours of elective ensembles (MUS 401 Band, MUS 402 Instrumental Jazz Ensemble, MUS 407 Wind Ensemble, and/or MUS 441 Orchestra)
2 semester hours of secondary ensembles (MUS 402 Instrumental Jazz Ensemble, MUS 403 Flute Choir, MUS 404 Woodwind Ensemble, MUS 405 Brass Ensemble, MUS 406 Percussion Ensemble, MUS 407 Wind Ensemble, MUS 422 Chamber Singers, and/or MUS 442 String Chamber Ensemble)
2 semester hours of Music Electives
And one of the following music literature courses:
MUS 160 String Literature
MUS 161 Piano Literature
MUS 162 Organ Literature
MUS 163 Vocal Literature
MUS 164 Choral Literature
MUS 165 Opera Literature
What can you do with a Music Performance degree?
Imagine yourself a music educator, performer in a symphony orchestra or opera company, college professor, symphony manager, or sales manager for a recording company.