Resources & Facilities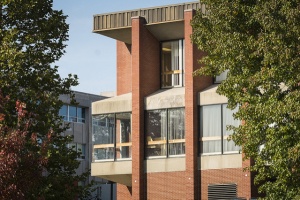 The Department of Biology is housed in the newly renovated and expanded Hoyt Science Center, a building that is well equipped to provide contemporary educational experiences in biology and the other sciences. The Hoyt Science Center is also home to Chemistry, Environmental Science, Neuroscience, Psychology, Physics, Mathematics and the School of Nursing. The building includes smart classrooms, discipline specific laboratories, collaborative study spaces, a planetarium, and seminar/conference rooms.
An important part of the educational venture in biology at Westminster is the opportunity for students to have hands-on laboratory experience with up-to-date equipment. For this purpose, the Department of Biology has specialized teaching labs for Anatomy, Physiology, Microbiology, Cell and Molecular Biology and Ecology. Each of the teaching labs is fully equipped to instruct up to twenty-four students in settings designed for individualized instruction. All biology faculty also maintain their own faculty/student research labs allowing for on-going independent and collaborative investigations. The department also has a museum, a resource library for graduate studies and health professions, two greenhouses, and an animal housing suite with specific rooms for maintaining aquatic organisms, reptiles, amphibians, and insects to support the program.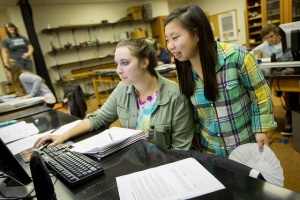 The department contains sophisticated modern equipment unique for colleges the size of Westminster within teaching labs, research labs and our new core research facility. Examples of equipment in the department are:
Olympus BX60 fluorescence microscope with Olympus digital camera
Leica DM 750 fluorescence microscope with Infinity 3s Lumenera digital camera
BIO RAD ZOE Fluorescent Cell Imager
Zeiss Axiovert 35 inverted microscope
BIO RAD T100 thermal cyclers (for PCR)
BIO RAD Chemi Doc XRS+ gel imaging and analysis station
Bio Tek Synergy H1 microplate reader
Thermo Scientific Precision cell culture incubators
Laminar flow tissue culture chamber
Thermo Scientific ultra-low temperature freezer
AD Instruments PowerLab data acquisition systems for animal/human physiology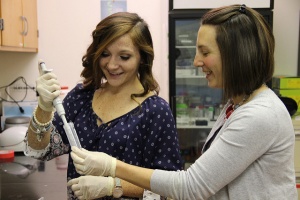 In addition to the fine facilities in the Hoyt Science Center, the Department of Biology includes the 40 acre field station, for Biological and Environmental Science, the 15 acre Brittain Lake, and the 40 acre College Woods.
The solar-powered field station, which is appropriated specifically for field biology studies, includes a year-round weather station, several buildings including a Nature Center/Classroom, the Lucille Beerbower-Frey Nature Trail, lowland thicket, pasture, arboretum, successional and experimental plots, community garden, marsh, spring-fed stream, and the Little Neshannock Creek. Brittain Lake, named in honor of J. Frank Brittain, is used for ecology and limnology field classes and is the location of some of the best catch-and-release bass fishing in the area. The College Woods is a beech-maple forested area used for field studies requiring a mature woodland. It includes a recreational walking trail.
What can you do with a Biology degree?
Imagine yourself a physician, surgeon, genetic counselor, conservation biologist, academic biologist, marine biologist, forensic scientist, physical therapist, veterinarian, ecologist, scientist or biotechnologist.