2023 Student Symposium on the Environment Schedule
---
Live and Virtual Components
Online Video Showcase of Virtual Components
5:30 pm - 7:30 pm
Live Poster Presentations & Photo and Art Displays
Witherspoon Rooms
7:30 pm - 9:00 pm
Live Oral Presentations & Select Video Shorts
Mueller Theatre
Virtual and Live Categories*:
---
Environmental Photo
Environmental Art
Environmental Video Short (5 min or less)
*Participants do not have to be present to participate in these categories.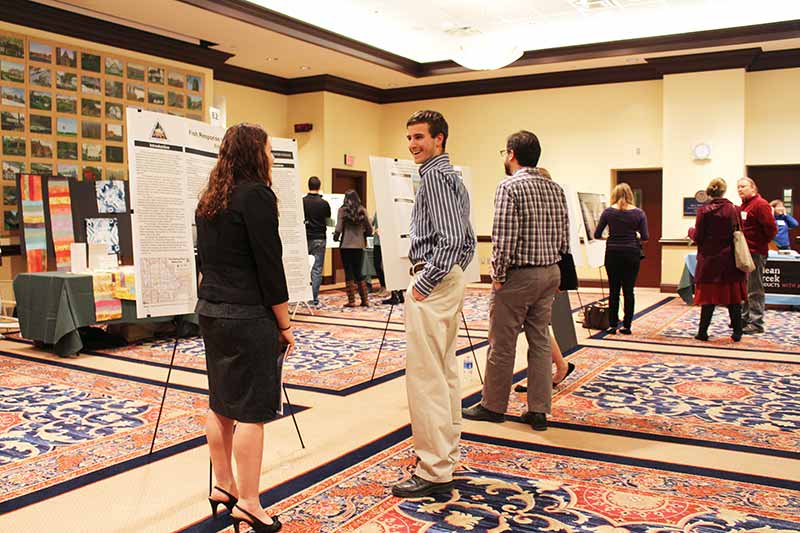 About the Showcase
---
The Student Symposium on the Environment is hosted each December by Westminster College to highlight environmental study, research, artistic expression, internships, and service work being done by students in the region. Individual, group, and class projects are welcome. Students from all disciplines, ranging from high school through graduate school, are encouraged to participate. Research posters, art work, oral presentations, video shorts and even performances are welcome.
This year's symposium features both live and virtual components. Posters and oral presentations are in-person only events, while environmental photos, art, and video shorts will be included in both the live and virtual symposium. A dedicated YouTube channel will house the virtual symposium, where the comments feature will allow dialog between the viewers and student presenters.
All submissions will be evaluated by volunteer judges, and awards (cash prizes) will be announced in multiple categories during the in-person event.
For those who wish to participate in person, the live portion of the Symposium will take place on Thursday, December 7, 2023 at Westminster College's McKelvey Campus Center in New Wilmington, PA, during an evening symposium.
All submissions are due by November 14, 2023.
Symposium participants who are looking for internships or jobs may want to bring copies of their resumes to the live event since environmental professionals will be present.
2021 Award Winners
---
Best Environmental Project
Sarah Schmidt - Allegheny College "Regulations at Scale in Ecological Economics."
Best Research Presentation
Sarah Schmidt - Youngstown State University "The Use of Benthic Macroinvertebrates to Access Water Quality in Tributaries of The Mahoning River."
Best Oral Presentation
Jennifer Sabol - Chatham University "Exploring the potential for native shrub assemblage restoration in northeastern forests with high whitetail deer and invasive shrub."
Best Oral Presentation
Jennifer Sabol - Chatham University "Exploring the potential for native shrub assemblage restoration in northeastern forests with high whitetail deer and invasive shrub."
Best Photography
Claire Mock - Westminster College "Caterpillar in Stream."
Video Viewer's Choice Award
Olivia Postlewait - Thiel College "Medicinal Uses for the Fungi of McKean County, Pennsylvania."
Video with "Buzz" Award
Garrett Martindale - Westminster College "Westminster College's BuzzFeed Cluster Students Detail the Importance of Bee Behavior."