Westminster College to Welcome Associate Professor from Pittsburgh Theological Seminary at Sunday Worship Service
Posted on Tuesday, October 15, 2013
NEW WILMINGTON, Pa. - Westminster College will welcome the Rev. Dr. Johannes G.J. Swart, associate professor of World Mission and Evangelism at Pittsburgh Theological Seminary, as the speaker for the Spiritual Emphasis Westminster program at 7 p.m. Sunday, Oct. 20, in the Wallace Memorial Chapel. The service is open to the public.
His sermon is titled "E-A-R-S for Jesus" and will focus on "gratitude," the Westminster Office of Faith and Spirituality's theme for the year. The sermon is based off of Luke 10:1-12.
Swart has served as pastor of Second Presbyterian Church in Oil City and as senior pastor of Fontainebleau Community Church in Johannesburg, South Africa. There he led a Dutch Reformed mega-church during the post-apartheid attempt to become more multi-cultural, multi-racial and multi-lingual. He also led a new church development among college students at a campus in Cape Town and was the national director of training and development for the Democratic Party in South Africa.
Swart earned a Ph.D. in congregational mission and leadership from Luther Seminary, a bachelor of theology and two bachelor of arts degrees from the University of Stellenbosch.
Music will be provided by the Second Chance Praise Team and the Westminster College Women's Chorus under the direction of Dr. Robin Lind, associate professor of music and director of choral activities.
Westminster student organists include Sue Jin Jung, who will play the prelude and opening hymn; and Alexandria Ott will play the closing hymn and postlude. Young is an international student majoring in religion. Ott is a senior accounting major and is a daughter of Timothy and Chrystal Ott of Quincy, Ill., and a graduate of Bethel Park High School.
The liturgist will be Olivia Martin, a sophomore English and fine art major. She is a daughter of James and Jennifer Martin of Sandy Lake and a graduate of Lakeview High School.
Contact Westminster's Office of Faith and Spirituality at 724-946-7117 or email for additional information.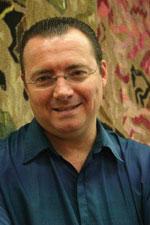 ---
More Stories