Westminster College Celebrity Series to Present Air Supply September 19
Posted on Monday, August 26, 2013
NEW WILMINGTON, Pa. - The Westminster College Celebrity Series will present Air Supply Thursday, Sept. 19, at 7:30 p.m. in Orr Auditorium.
This quintessential adult contemporary duo, made up of Australian natives Graham Russell & Russell Hitchcock, shot to stardom in the 1980's. They met while rehearsing for "Jesus Christ Superstar" in Sydney in 1975. Five years later they were signed to Arista Records by music industry executive Clive Davis, and by the late `80s they had performed for HRH Prince Charles and HRH Princess Diana.
The duo's hits "Lost in Love," "All Out of Love," "The One that You Love," "Even the Nights are Better," "Here I Am," "Every Woman in the World," and "Making Love Out of Nothing At All" have each achieved multimillion plays on the radio.
Air Supply's most recent album "Mumbo Jumbo" was produced in 2010 by Sean O'Dwyer (Pink Floyd, Randy Newman and Blink-182). In 2013, the duo continues to play more than 150 shows a year worldwide.
The show is sponsored by Jameson Health System and Opis Asset Management LLC.
Tickets, starting at $35, are available from the Celebrity Series box office at 724-946-7354.  Visit www.westminster.edu/celebrity for additional information.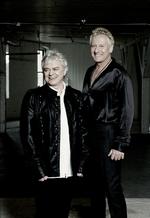 ---
More Stories