Westminster College Visiting Assistant French Professor Travels to Europe as Part of Research Project
Posted on Friday, August 24, 2012
NEW WILMINGTON, Pa. - Dr. Leslie Kealhofer, Westminster College visiting assistant professor of French, traveled to Paris and London during the summer to expand her knowledge of the French language, culture and arts of French speaking countries.
Kealhofer spent two weeks in Paris in May visiting museums and other cultural sites. She also conducted research at France's national library, where she screened films not available in the United States as part of her current research project on the cinematic representations of North African women in France.
A highlight of Kealhofer's visit to Paris was her interview with filmmaker Fatima Sissani about Sissani's documentary film La langue de Zahra (Zahra's Mother Tongue), which was selected for film festivals in Montreal, Brussels and Algeria. The film focuses on Sissani's mother, Zahra, who emigrated from the Kabylie region of Algeria to France in the 1960s, and her desire and need to maintain a strong connection to her native language and cultural roots. The film, shot in both France and Algeria, highlights Zahra's poetic use of the Berber language while also exploring the challenges associated with living in exile.
Kealhofer attended the annual Studies in French Cinema Conference at King's College in London on June 14. The conference focused on the theme "Postcolonial Francophone Cinema and Contestation." The keynote speaker was Tunisian filmmaker Nadia El Fani. The conference concluded with a special screening of El Fani's most recent film, Laïcité Inch'Allah!, a documentary that follows the end of the Ben Ali regime in Tunisia and the subsequent events of the Arab Spring.
Kealhofer currently teaches elementary and intermediate level French classes at Westminster and is the faculty adviser to the French Club. In addition to her current research project, Kealhofer's broader research interests include representations of women and minorities in contemporary Francophone literature and film.
Kealhofer, who joined the Westminster faculty in 2011, earned an undergraduate degree from the University of Notre Dame and master's degree and Ph.D. from Florida State University.
Contact Kealhofer at (724) 946-6260 or email for additional information.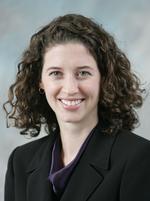 ---
More Stories