Chemistry Students Presented at SRWC Meeting
Posted on Friday, May 18, 2012
Westminster College chemistry/biochemistry majors presented the results of a service-learning project at the May 10 meeting of the Slippery Rock Watershed Coalition (SRWC) at Jennings Environmental Education Center.
The students are working on a project with Dr. Helen Boylan, associate professor of chemistry, as part of their "Advanced Laboratory."  The project was completed in collaboration with the SRWC.
Students conducted field testing and sampling of the water at the newly-constructed McIntire site for the passive treatment of abandoned mine drainage.  The Butler County site treats the most contaminated water in the Slippery Rock Creek watershed.  According to Boylan, some government agencies would not fund the construction of the site because it was believed the water was so contaminated it could not be treated passively.
Although improvements are still needed at the site, the students' results suggest the passive treatment is working: iron levels, for example, dropped from more than 200 to 0.4 parts per million.
"The collaboration allows the watershed group to get laboratory-quality data regarding the water at their passive treatment sites," Boylan said.  "Through the service-learning project, the students get to apply their knowledge of environmental and analytical chemistry to serve our non-profit partner."
Boylan, a Westminster graduate who joined the faculty in 2001, earned a Ph.D. from Duquesne University.
Contact Boylan at (724) 946-6293 or email for additional information.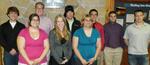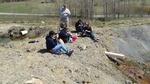 ---
More Stories