Westminster College Biology Professor to Present Molecular Approach to Studying Behavior
Posted on Monday, March 11, 2013
NEW WILMINGTON, Pa. - Dr. Katherine Robertson, Westminster College associate professor of biology, will present "Molecules of Attraction: A Molecular Approach to Studying Behavioral Responses" at Faires Faculty Forum Wednesday, March 20, at 11:40 a.m. in Mueller Theater of McKelvey Campus Center.
The human brain contains billions of cells and trillions of connections through which those cells communicate with each other. Exploration of something that complex is similar to exploring the millions of galaxies in our universe. Robertson will explain how her explorations of simpler insect brains may reveal some of the cellular and molecular mechanisms that regulate appropriate responses to different olfactory stimuli.
Robertson, who joined the Westminster faculty in 2005, earned an undergraduate degree from Paddington College, UK, and master's degree and Ph.D. from the University of London.
Contact Robertson at (724) 946-7213 or robertkl@westminster.edu for additional information.
The Faculty Forum was established in 1990 by Dr. Barbara Faires, Westminster professor of mathematics emerita, during her term as dean of the college and vice president for academic affairs.  Faculty members from all disciplines volunteer to present lectures on their current research, artistic productions, and scholarship of teaching and learning.  Each forum presents new ideas with innovative lecture techniques.
Contact Dr. Charlene Klassen Endrizzi, faculty development officer, at (724) 946-7189 for more information on the Faires Faculty Forum or view http://www.westminster.edu/acad/faculty_dev/faires_faculty_forum.cfm.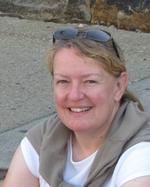 ---
More Stories