Westminster Education Students Recognized for Volunteer Work
Posted on Friday, April 28, 2000
Several Westminster students were recognized recently for their volunteer work at the Lawrence County Women's Shelter.
"Locating student who were willing to assist at the shelter was easy," according to Dr. Linda Domanski, assistant professor of education.  "Since September, a number of students have volunteered to help with this project."
Domanski, who works through Sue Pfahles of the Midwestern Intermediate Unit IV, has often formed partnerships between students of her inclusion classes and homeless children and youth from Lawrence County.
This spring, as a way of saying "thank you," Pfahles presented Domanski and the current volunteers with a hand-made quilt.
"The quilt is special because it was lovingly made by a junior high school teacher, who refers to herself as Mrs. Angle, and her students, who themselves are homeless," said Domanski.  "This was their way of honoring others who have a heart' for children in special circumstances."
For more information, contact Domanski at (724) 946-7182 or e-mail domanslp@westminster.edu.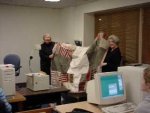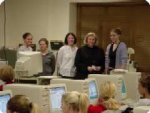 ---
More Stories