How do I teach effectively?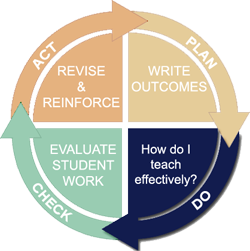 Assessment gathers data on what students do (what is learned) not on what instructors do (what is taught). However, the "DO" stage of the assessment cycle begins with instructors and with the question, "How do I teach effectively?"
Effective teaching provides continuity between the Plan and Check stages of the assessment cycle. Effective teachers implement program outcomes at the course level in ways that facilitate student learning. That is, they design learning activities that help students achieve what is developed in the Plan stage. The range of possible learning activities is wide and varied: projects, papers, performances, presentations, and exams are the most familiar direct measurements of student learning used at the course level.
Learning activities must be designed to stimulate learning and to yield assessment data for the evaluation that follows in the Check stage. In addition to relying on data gathered within particular courses, program evaluation is also based on other sources of assessment data, including direct measures such as comprehensive and standardized exams and indirect measures such as course evaluations and alumni surveys. The development of these assessment measures is also part of the Do stage.