What do I want students to learn?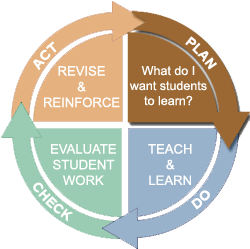 Good assessment planning begins by identifying learning outcomes for students. Planning then involves building programs and courses that provide students opportunities to achieve these learning outcomes.
Alignment and integration of learning outcomes are the keys to successful assessment planning. Learning outcomes identified at the institutional level must be integrated at the program and course level. Conversely, course outcomes must align with program outcomes, which in turn must align with institutional outcomes.
Effective planning and integration depends on clearly articulated goals for student learning. Outcome statements must also be measurable and must target various skill levels within the cognitive domain.
The links on this page provide guidance with each of these elements of successful assessment planning. The first link discusses the paradigm shift at the heart of contemporary assessment-the shift from a focus on what the instructor does to what the student learns. The second set of links provides specific information designed to guide effective planning. The final link provides a light-hearted but helpful overview of planning components.