Please enter the information below to personalize your Regional Connections e-Invitation.
[Your Name] has invited you to Welcome Open House for Class of 2015!
[Recipient's Name],

The members of the Class of 2015 and their families are invited to attend a Welcome Open House. Come and meet other members of your class!
Please RSVP with number in your party by July 20, 2011 by email or phone.
For assistance with directions, please contact the open house host.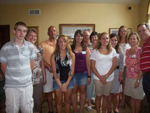 For additional information, please contact Cindy Dafler '03, Assistant Alumni Relations Director by e-mail or phone

724-946-7373

.

Reservations due by Wednesday, July 20, 2011.
Sent on: October 20, 2014
from you@youraddress.com to them@theiraddress.com