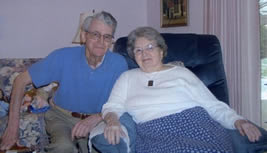 Robert Young '47 and Charlotte Davis Young '43
Married June 13, 1947

We were freshmen in 1939, Charlotte Davis from New Wilmington and Bob Young from Vandergrift, Pa.
Our relationship, during the first three years at Westminster, was very casual. She spent most of her time in the long old Conservatory of Music while most of my days were in the old brick Science Hall. Char's dad (they called him Professor Davis) was head of the Conservatory of Music. Our acquaintance was very casual at best. I wasn't much of a dancer and didn't circulate much. I did play clarinet in both the band and the orchestra. The band would often play at basketball games in the old shoebox size gym. Char claims she often pounded my back when sitting behind me in a cramped position with her knees in my back. I never remembered that. That was a sample of our occasional contacts during the first three years of college.
Then World War II came along and I had to leave. I was in the Navy and stationed several places in the states. Finally I was shipped out, and after bouncing around the South Pacific, I ended on the island of Samar in the Philippines, where I spent a couple of years. After the war, I was sent home and discharged.
I had been on a 3-2 plan between Westminster and Carnegie Mellon. I decided to forget this plan. In one and a half years at Westminster, I could get my BS degree with a physics major and hit the job market before the flood of GIs under the GI bill graduated. This was the best decision I ever made, because I met my future wife again.
Graduation from Westminster required two years of foreign language, therefore I had to go to summer school to get my first year of German, the second year would be obtained during normal school session beginning in the fall. Coming to summer school was the best I could ever ask for: I met my future spouse.
I was sitting on the wide railing of the front porch of the Alpha Sig house waiting for the dinner bell to ring. Behind me, on the other side of Waugh Avenue, I heard a voice, "There is Bob Young." I turned and there Char was in a bright red bathing suit coming home from the town's swimming pool. She waved, and of course I had to run over and say hello. She had not gotten married when I was in the Navy, although she had several opportunities with the V12 Air Force men going to Westminster during those years. It wasn't long before a serious romance started, with marriage four days after I graduated the following year. It was Friday, the 13th of June, 1947. We celebrated our 65th anniversary in June 2012 and are looking forward to number 66. I'll be 92 in March and Char will be 92 in April. We have two children, Deborah and Jeff; five grandchildren; and one great-granddaughter.
Paul Campbell '52 & Beverly Mergner Campbell '53
Married June 13, 1953



Beverly Mergner and I first met in the gym, where the new freshman class was holding a "get acquainted" dance. A fellow football player and I "crashed" the activity! I spotted Bev across the floor and asked her do dance – and she accepted!

We dated throughout our college years , and became engaged in 1952 when I graduated and joined the Marine Corps. I promised her father, after he requested, that we not marry until she graduated, and that we did. Our wedding was June 13, 1953, just five days after Bev's graduation.

We have two children, son Kim and Mindy; eight grandchildren; and three great-grandchildren.
Mark Landfried '53 & Marjorie McCullough Landfried '53
Married Nov. 24, 1950


So where did I first meet my sweetheart at Westminster? Gosh, that was some 64 years ago, and memory does play a few tricks on us oldsters. But one clear remembrance of being at the same place at the same time was during the daily chapel gathering where seats were assigned and a roll was kept. Since Row L was just in front of Row M, it's pretty clear in our minds that this is where our acquaintance with each other began. You can't exactly call it a "meeting," but it was at least on a level that went one step beyond my just admiring her from afar, which I did. The real meeting came when we were assigned to be on the same Gospel Team, part of the Westminster plan to have students go out to area churches to conduct worship services if requested to do so. When I think back to the first occasion when I was preaching and Marge was playing piano, it not only reflects that particular period of time of our lives when I was a pre-ministerial student and she was a music major, but it was also a look ahead to a day when a shared ministry – pulpit and piano/organ – (the Word spoken and the Word sung in joyful praise), would be repeated time and time again. Thanks, Westminster, for bringing us together. It was the greatest gift you could have given. We were married on Nov. 24, 1950 (the day after Thanksgiving), still remembered as "the day of the big snow" when some two feet of snow came so fast that a large area of western Pennsylvania was paralyzed, and many were completely snowbound. Intending to go on an extended trip, we got 15 miles from our wedding in Cambridge Springs, Pa., to Meadville, where all roads were closed and nothing moved in or out for three days. Who could play a honeymoon better than that? We have two children: Ron (born in 1952 and passed away in 2011) and Karen.

Richard Banick '53 & Margaret Esler Banick '56
Married May 22, 1953


Did I marry my Westminster sweetheart? Yes, indeed! In the fall of 1952, as a new freshman on campus, and at Dick's request, we were introduced by my hometown friend, also a cheerleader. Dick was a senior, a Sigma Nu, and quarterback of the football team. We met at the TUB and an immediate and mutual attraction and interest was obvious. After the first few dates, a bonding of love, caring, respect, and trust commenced and has continued, grown, and strengthened over the last 59 years. We married in the college chapel on May 22, 1953. Shortly after graduation we moved to and continue to reside in Miami, Fla., where following graduation from law school in 1956, Dick has enjoyed a successful practice of law. We have fond memories of Westminster, where our seeds of love were sown. We were blessed with four children: Barbara, Belinda, Stacey, and Richard Jr., who passed at age 51.

Jack Mansfield '59 & Carol Paulie Mansfield '58
Married June 13, 1959


I first met Carol in 1956 when we were both on Student Council. I was in charge of finding convertibles and assigning drivers to drive the Homecoming Queen candidates in the parade at halftime of the football game. Since I had my eye on Carol and she was the Theta Upsilon Homecoming Queen candidate, I conveniently assigned myself to be her driver. That was the beginning. Next, Carol was in charge of Spiritual Emphasis Week and I helped her was the communion cups after the final night's service. I then invited her to go to the A&W root beer stand in New Castle for a root beer float. That was our first date and the rest is history. On April Fool's Day of 1957, Carol's junior year, we were pinned. We were married on June 13, 1959, in Oil City, one week after my graduation and being commissioned as a 2nd Lt. in the U.S. Marine Corps. We have two sons, Todd and Scott; one daughter, Jackie; and 10 grandchildren. I met Carol as her driver and it's been fun driving each other crazy ever since!

Arthur Davis '63 & Carol Peterson Davis '63
Married June 27, 1964
We met in 1961 on a blind date for the end-of-the-year Phi Tau fraternity picnic at Idora Park in Youngstown, Ohio. We were married June 27, 1964. Two children, Holly and Heidi.
Jay Daniel Buchanan '66 & Elaine Rhinesmith Buchanan '66
Married on Aug. 13, 1966

Westminster College, first day of freshman week, September 1962. A gorgeous fall day. A freshman football player from Erie meeting a freshman woman from Madison, N.J., while sitting on a bench in front of Browne, talking small talk and getting to know each other and becoming friends. Her friends telling her immediately that she would marry him!!
Skip to the end of sophomore year. Still not dating, but still friends. Jay and Elaine decide to finally start seeing each other. And that was that. No turning back, inseparable from that moment. Going to class, studying, going to chapel, going to church. We were engaged in May of our senior year. We graduated on June 6, 1966, and were married on Aug. 13, 1966.
Jay joined the U.S. Marines and went to Vietnam. Their first child, Gregory, was born while Jay was away. Two daughters – Kristen Elaine and Melissa Joy – later followed. They have seven grandchildren.

Don Goughler '68 & Susan McGeary Goughler '69
Married Aug. 24, 1968


Before I joined my sorority, I was invited to a sorority formal. Since I wasn't dating anyone in particular, I asked my girlfriends to think of some guys they knew who would be fun to take. We put their names in a hat and I drew Don Goughler. I knew who he was and thought he was pretty cute, but I had never spoken to him. I was a little nervous calling the Alpha Sig house, and luckily a friend of mine answered the phone. I explained why I was calling, and he spent a couple of minutes talking me through why I should ask Don. Don accepted my invitation. He picked me up at Browne, and we immediately began making each other laugh. We had a wonderful time and laughed continuously. We both knew we were a great match and, after all these years, we still are. We were married Aug. 24, 1968, and have one son, Jordan.

Larry Bonney '67 & Diane Mylting Bonney '66
Married June 17, 1967

We had known each other all four years at Westminster, but it all started fall of 1965, our senior year. We were working with the youth group at New Wilmington Presbyterian Church in town and the kids (one of them was Biz Ellis!) insisted that Larry bring Diane to their Senior Play. It was Spiritual Emphasis Week on campus so that Friday night we went to chapel (Wow! Our first date was to church!), then to the play and we had a wonderful time!! Larry was playing football for the Titans and I was a cheerleader, and the next week we rode from the Mt. Union-Westminster football game to a college retreat for Young Life leaders. We realized over the weekend that we were a good team and soon were madly in love! We were pinned in January 1966 (Sigma Nu and Sigma Kappa united!) and engaged in May of 1966 while sitting by Lake Brittain! We were married June 17, 1967. God brought us together on the Westminster campus and, 45 years later with three married sons and eight grandchildren, we are so grateful for our happily-ever-after Westminster College sweetheart romance.

Harry Obley '56 & Marilyn Steadman Obley '56
Married Dec. 27, 1956


We met as freshmen in the fall of 1952 at Westminster in Miss Duff's English class. We were married in Wallace Memorial Chapel on Dec. 27, 1956. Dr. Will Orr, president of the college, married us. One of our daughters, Petra, also graduated from Westminster in 1988, and one of our granddaughters, Hope, will graduate in 2013.

Hugh Ferguson '59 & Joan Acton Ferguson '60
Married Aug. 22, 1959


We met at the TUB and our first date was a Sig Ep party. We were married Aug. 22, 1959. We have three children, Valerie, Nancy, and David.

Bill Beatty '59 & Clara Gillis Beatty '59
Married Aug. 22, 1959


We met at Westminster College where Bill was "head waiter" and Clara was a waitress. We married on Aug. 22, 1959. We have three children, Stephen, Deborah, and Brenda; five grandchildren; and two step-grandchildren. We are both retired and live in Omaha, Neb.
Conner White '58 & Barbara Stott White '58
Married June 18, 1960


We met at a dance in Old 77 freshman year. We were married June 18, 1960, and have four children, Jennifer, Clark, Scott, and Steven.

Bob Kennedy '45 & Helen Scholl Kennedy '46
Married in 1948


A happy note when Bob Kennedy and Helen Scholl met at Westminster in 1943. They had many special memories for four years in college. Each day they met after class at Ferguson Hall, where they both waited tables for three years. Susan Scur was their guide in the dining room. Fun Bob thought Helen could have used better training in the dining room. It was during World War II. They took in all Westminster football and basketball sporting events, even traveling to out-of-town games. Bob had his father's red convertible once a year on campus, so they had lots of friends. That same convertible was used in a Homecoming parade when the war was over. Helen became a Sigma Phi Epsilon sweetheart when Bob presented her with his Sig Ep pin and the fraternity sang their sweetheart song under the dorm window of Ferguson's second floor. They were married in 1948. Tom Turner '45 was Bob's best man and Mary Alsop Bower '46 was Helen's maid of honor. Helen Dunseath '48 sang at their wedding, and economics professor Frank Bretthole attended the wedding. They made Westminster their activity center for many years, continuing lifelong friendships. They have two children and five grandchildren. Bob and Helen are still making memories together after 64 years together!

Jonathan Webster '61 & Melissa Huddell Webster'62
Married June 1961


We met while working in The Argo office in January 1960, Melissa doing layout and art design while Jonathan was selling ad space to local merchants. After romancing at the old McGill Library reading room and Alpha Sig affairs, we were married in June 1961, a week after Jonathan's graduation. We lived in New Wilmington for the next year until Melissa's graduation in June 1962. Since then we have lived in Ohio, Minnesota, and Wisconsin before moving to Walla Walla, Wash., in September 1977. With degrees in European History for Jonathan (Ph.D., University of Minnesota, 1972) and Art History for Melissa (M.A., University of Washington,1993), we taught at Walla Walla Community College until our retirement in 2001. In June 2011 we joyfully celebrated our 50th anniversary in Arlington, Va., with our two children and four grandchildren. The have one son, Andrew, and a daughter, Elizabeth, and four grandchildren.

Keith M. Ramsay M'67 & Carol Pochiro Ramsay M'66
Married Nov. 19, 1966


We met in the fall of 1965 while taking our master's in education in Dr. Henderson's Philosophy of Education class. Due to a classmate of ours being chronically late in picking up his fellow carpoolers, Carol often arrived after class had started. Coming in late to a class that already had over 50 students in a small room in Old Main caused a stir and a shuffling in search of seats. This caught my attention. During class breaks we would meet in the Student Union and our relationship began. I had recently acquired my Private Pilot's license and offered to take Carol and her siblings for a flight which she accepted. And the rest, as they say, is history. We were married Nov. 19, 1966. We have two sons, Thomas and Jeremy, and three grandchildren.

Graham Johnstone '66 & Marilyn Smith Johnstone '67
Married July 8, 1967


We officially met in language lab, Marilyn listening to Spanish and I listening to French. This was the best part of taking a language! We were married July 8, 1967. I served in the US Navy from July 1, 1972, through June 30, 1974. I was fortunate to spend the entire time at the Pensacola Naval Station, serving as a general medical officer. At the time of discharge, I had attained the rank of Lt. Commander. We have three children: Gregory, Stephen, and Erin.

Thomas Gregory III '69 & Lenore Shelly Gregory '70
Married June 13, 1970

We were dorm directors (Tom was in Eichenhauer, I was in Shaw). Also, we were involved with a Christian ministry on campus that planned a youth service one Sunday in February 1968 at Jackson Center. We were married June 13, 1970, in Wallace Memorial Chapel by Rev. William Jackson. We have three children, Thomas, Shelly, and Todd, and seven grandchildren.

Paul Wallace '69 & Karen Krull Wallace '71
Married Feb. 20, 1971

We met at the Salvation Army Service Team. One evening a week Westminster College students drove to the Salvation Army in New Castle to help with homework and activities. My first year roommate (who met her future husband there as well) encouraged me to sign up for the Service Team. On Nov. 11, 1967, he asked me out on our first date. And we've been together ever since. We married on Feb. 20, 1971. He taught math in Ellwood City while I finished at Westminster. We lived in Michigan, Virginia, and Kentucky before returning to Westminster in 1981. Paul is the Westminster's director of information systems. We have two children, Hope and Adam.

Thomas Edward Shafer '73 & Bonnie Boyd Shafer '73
Married May 17, 1980
We met at several parties at the Boy Scout camp. We exchanged Christmas cards and went to the wedding of Sue and Millard McQuaid (also Class of 1973) separately. Then in 1979, six years after graduation, Bonnie traveled for an education conference to St. Louis where she remet Tom for dinner. And the rest is history. They were married May 17, 1980. The have three children, Sarah, Thomas, and Laura; and one grandson.
John Filar '74 & Kay Hollyday Filar '74
Married May 24, 1975


John and I met in the fall of 1970 at a planning meeting for the freshman Homecoming float as presidents of our respective dorms, Russell and Shaw. Over the next two weeks we hung out a lot together making tissue-paper flowers for the float and popcorn and Tang to keep flower-makers working until curfew (11 p.m. in those days!). The theme was Broadway shows, and we had decided on Hello, Dolly! with the help of a mannequin, period dress, and accessories borrowed from the theatre department.
Because rain continued non-stop throughout Homecoming weekend, the parade actually took place the following Wednesday evening. As floats were moved into place near the amphitheater, our Dolly mannequin, apparently weakened by all the rain, just toppled over and off the wagon. The guys pulling the wagon ran up the hill to Russell dining hall and moved along the dinner line desperately seeking someone who was able to fit into the dress and willing to become a live Dolly. I happened to be the right size, and within minutes, my bustle and I were being hustled down the slippery hill and hoisted onto the float.
As the parade made its way through downtown in a steady drizzle, I did my best to smile and wave, but couldn't help feeling discouraged and worried. After all our work, the paper flowers were a soggy mess, the "Give 'Em Hell-O Dolly!" sign intended for Saturday's football game was smudged and tattered, and the lacy yellow dress and hat I wore surely would be ruined. But those feeling completely disappeared as the float came to a halt back on campus. There was John waiting with a huge smile. He gently lifted me down, wrapped me in his warm jacket, and told me it was the best float he'd ever seen. Minutes later he asked me out to see "Camelot" the next night. And, with our commitment to a weekly date night, we like to say we've been dating ever since! We married May 24, 1975, and have three children, Travis, Jesse, and Kaitlyn, three grandchildren and two on the way.

Wayne Wellman '79 & Carol Berger Wellman '78
Married July 14, 1979


When Wayne was an incoming freshman, I was beginning my sophomore year in the music program. The music honor societies, Mu Phi Epsilon and Phi Mu Alpha Sinfonia, assigned the freshmen as "little brothers and sisters" to the upperclassmen in the music program. Because we were both saxophone majors, Wayne was assigned to me as my "little brother" – someone I could take under my wing and guide around the music department. However, we were also in competition with each other for seats in the bands and orchestras. He could play circles around me, but because I was an upperclassman, I usually got the position. This made for a competitive relationship at first. Around Thanksgiving, we were both unexpectedly offered seats in the touring jazz band due to a dispute between the director and two other band members. They were out and we were in. The other band members weren't very happy with us over this situation, so while the band was traveling to Disney World for performances during the January term, we were snubbed by the other band members. At that point, we only had each other as friends...so we spent many hours talking and getting to know each other. We married on July 14, 1979, and have two children, Daniel and Aaron. Who would have ever guessed that a seemingly random "little brother" assignment in 1975 would have resulted in a 33+ year marriage? Thanks, Westminster

James Marshall '82 & Sheila Fryer Marshall '83
Married June 18, 1983



I met my college sweetheart in the backseat of a car. It is not what you think. In January 1980, my dad, who happened to have been Sheila's high school physics teacher, thought it was an economical idea for us to carpool together back to Westminster since we lived in adjacent counties two hours east of WC. Sheila's mom was driving and her aunt was along for the ride. We talked, but about half way, I must have not been very interesting, because she pulled out her chemistry textbook and started to read. I couldn't retaliate by pulling out my physics textbook since reading in a car makes me sick, so I stared out the window feeling forlorn. In the spring of 1980 we didn't see much of each other but we soon learned that we had mutual friends at church. That spring, another girl bet me that I could not be nice and agreeable to her for an entire week. I proved her wrong. However, during this week, since I was obligated to be nice and agreeable to her, I, therefore, could not refuse her requests. This included being nice to her for the rest of that month, as well as setting up a different girl for the next month. This pattern continued until I had a string of girls lined up for a month each for the spring as well as the fall of 1980. Sheila had the month of October since that was her birthday month. I carried her books, carried her cafeteria tray, left her poems in her mailbox, etc. At her request I even brought her flowers and candy (however, being the poor college student, I brought her wild flowers from a field outside Hillside and a cookie from the cafeteria) and serenaded her below her Galbreath window. I discovered later that I was observed by the entire Delta Zeta sorority. In November, I was deciding whether or not to ask Sheila or another girl out for a date. I had no money for a coin toss so my friend lent me a dollar bill. Sheila won the bill toss. Obviously, we got to know each other better so that by December 1980, she asked me to the Kappa Delta Christmas formal. We then began dating. We were engaged by Christmas 1981, and married June 18, 1983. Dad claimed that he match-made the entire thing. We have two children, Benjamin and Amanda.
Robert Martinez '83 & Rebecca Phillips Martinez '84

I met Robert at Westminster College during the fall semester of 1982 in the lobby of Ferguson Hall. I was a science major and he was a baseball pitcher – not a likely match in my eyes. I thought he was interested in a mutual friend of ours and was not thinking that there was anything between the two of us whenever we ran into each other on campus.
So, I was surprised when he called me one day during that fall and said that he had gotten sick after donating blood. I had helped to organize the blood drive, and I was a bit distressed that he was saying donating blood made him ill! He told me that rather than pursuing legal action for his illness, he would settle for us going on out. We went to see the movie "Six Pack" at the little movie theater in town and dinner at Prima's. He had pizza with raw onions, I had a hot Italian hoagie – interesting breath after those meals!
It was all very sweet and it was then I realized he was interested in me. Our mutual friend gave her blessing to the relationship. That first date was 30 years ago on Nov. 11. We have been married for 27 years and have three beautiful daughters: Ana, Katherine, and Isabelle.


Dan Miller '83 & Kathy Fishburn Miller '84
Married June 9, 1984
We met on a J-Term trip to Germany in 1983. We married the week after I graduated on June 9, 1984. We have two children, Eric and Justin.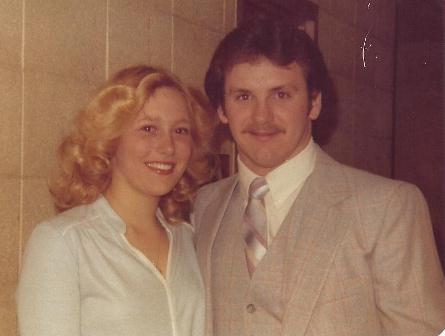 Patrick Michael McAndrew '84 & Kathryn Hast McAndrew '84
Married Oct. 19, 1985

Sept. 6, 1980: The incoming freshman class arrived early to become familiar with the campus and learn things about each other in an event known as PLAYFAIR. You played silly games where you got to meet/know many people in one of three days of freshman orientation. You might not remember their name, but you remembered they liked synchronized swimming or that they came to college here from Florida. I had an earlier start to get to know the campus, as we Titans were finishing up football camp. I had the mindset that I was at a private college that was very rich in Tradition, Pride, and Excellence. I was nervous about being successful and was going to focus on being a good student.
On Sept. 6, 1980, several students who had their birthday on that day went to the center of this group of students involved with PLAYFAIR. Kathryn Lynn Hast was 18 years old that day. I saw the most beautiful girl with a bright white smile and blonde flowing hair. She was wearing a black athletic cut Hawaiian shirt with palm leaves and various tropical birds in the pattern. She wore bright yellow Jordache pants and white opened-toed sandals with a pedicure and a manicure. I remember everyone in the gym went to a blur and my complete focus was on Kathy. Do I believe in love at first sight? Ahhhh, YEAH.
That night I went back to my dorm room in Russell Hall and looked at the "Baby Book" to find out what this girl's name was. I knew her name and I saw that she went to Peters Township High School. One of the freshmen football players came from Peters and I asked him, "What do you know about Kathy Hast?" He told me, "Patrick, she is out of your league." I responded, "Well, we will see about that!"
It took me two weeks to ask her out on our first date and I would like to tell you it was love at first sight for her, too. But the truth is, it took me about two weeks more to have her completely fall in love with me.
One day in our early dating we were walking in New Wilmington and it started raining. We were walking by the Township Park when it started to rain pretty hard. We ducked into a stationary, GIANT horizontal wooden barrel that spun when you walked in it. We talked about so many things: what we believed in, how we felt about different issues, what our families were like. I knew at that very moment that I wanted to spend the rest of my life with this most amazing person that I ever met. It is 32 years later since I first laid eyes on her and it was LOVE at first sight. For me. We are both still very happy together.

Clyde Saletta '81 & Stacey Winger Saletta '84
Married Aug. 11, 1984

As my freshman year began in August of 1980, I desired to make some friends and Godly connections at Westminster. I thought a Bible study was a great place to start, so I signed up for one that met at Hillside, where Clyde was the resident director. As I attended the weekly study, I made friends not only with the people in my group and my leader, but also Brad Martin '81, the RA on that hall who frequently stopped in to visit and share his wisdom on the topic that we were studying. January was quickly approaching and I had to decide whether to sign up for a class that met practically every day for the month of January or to take advantage of a month-long travel seminar to Germany, Switzerland, Austria, and France. After my mother's consent, the choice was obvious: Europe, here I come! I did not know at the time that Clyde and his best friends, Brad Martin and Rodney McNinch '81, made plans to go on the same seminar together.

Much of our time on that trip was spent as a group, studying the history and architecture of the beautiful countries that we explored. However, there were many days that we did have a few hours of free time and we were permitted to investigate the area on our own or with other students in the group. While most of the students had planned this seminar with groups of friends or at least one other friend, I had neglected to do so. My RA was on the trip with her friends and there was one other familiar face in the crowd: the RA from my Hillside Bible study, Brad Martin, who was already ready with detailed minute-by-minute free time itineraries. He quickly observed that I was alone and invited me to sightsee with his group of friends. There in Paris, France, I was introduced to the man who would become my godly husband and wonderful father to my two beautiful children.

Brian Lohr '84 & Kelly Moon Lohr '87
Married May 6, 1989


Brian was a senior and Kelly was a freshman when they first met. Brian needed a psychology class to fulfill a requirment for graduation and by luck picked this particular course. Thinking Kelly was out of his league, Brian did not talk to her until the spring of that year – long after the course was over. Being in her class and also on the football team for four years, Brian thought that Kelly would know who he was! Not so much. He called and her first response was "who is this?"

Their first date consisted of dinner and a movie in the big smoke of Youngstown, Ohio. March in western Pennsylvania can be COLD. Kelly asked after they had been driving for a bit, when his old Mustang would warm up – "Late May" was Brian's response (no heater). They still have the old Mustang, which is now restored with a working heater. They married on May 6, 1989. They have four children: Emily, Meghan, Nicholas, and Caroline.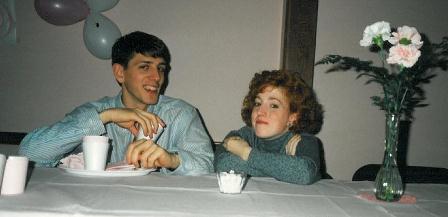 Greg Pollock '88 & Lori Neumann Pollock '87
Married Dec. 22, 1990
I transferred to WC in 1985 and although I attended weekly chapel and Sunday night vespers, I never met Lori, who was on the chapel staff as a student. I didn't meet her until November 1986, when I was invited to attend a Friday night Christian group that Lori was a part of. Can you believe a campus of less than 1,100 students and only a handful attended the optional chapel services, and we had never met or been introduced even though we many mutual friends for over a year?
Fortunately, Lori flirted with me at the end of the evening program saying she liked "tall guys." I obliged, but mistakenly said my girlfriend was a redhead. Lori was a redhead, but my comment obviously turned her off, even though what I meant was that I liked redheads.
Nonetheless, I got a postcard from her during J-term asking me to attend a planning session for the Friday night group to get some new ideas for the spring. I was flattered and thrilled to get mail being a J-term RA at the time. We continued to "square off" by pretending not to like one another, while secretly having a crush on one another. I used to sit (possibly even missing a class or two) on a bench on the quad where I knew she would pass going to and from her dorm or the Kappa Delta suite—just to get a glimpse of her, thinking of something funny or cool to say (which got me nowhere fast.) Finally, one evening I donned a paper bag over my head, taped some balloons to it, wrote the Unknown Admirer on the front of the bag (the Unknown Comic was a big hit back then, or so I thought) and went and sat in the freshmen girls' dorm where Lori was sitting desk that night. I sat there most of the evening until she finally became annoyed and curious enough to discover who I was and what I was doing there.
After some marathon telephone conversations, I finally asked her out to Alice's Pizza. We had an awesome spring break spent together on campus hanging out. A kiss and a formal later, we were dating. Lori graduated in 1987 and I finished up my senior year in 1988. I landed a teaching job in northeast Ohio and began saving enough money to buy a ring and pop the question.
At the 1989 NAIA Division II National Championship Football Game that Westminster won at Fawcett Stadium (Canton, Ohio), I got a one knee in three feet of snow and below zero temperatures during in the first half. And although she said I bought the wrong ring, she said yes. We married a year later.
Twenty-four years later with two very successful and academically-minded kids, Mitch and Emma, we couldn't be happier. Thanks for the opportunity to share my Westminster Sweetheart story!

Brian Friday '93 & Shelly Pattison Friday '93
Married December 1994


Shelly Pattison Friday '93 and Brian Friday '93 met once during their freshman year at Westminster. Shelly thought Brian was a little weird. Brian thought her hair was a little too big. There were no real sparks.

But it was during a Phi Tau/Alpha Gamma Delta graffiti party mixer their junior year when something clicked. About an hour into the party, Brian wrote on Shelly's shirt, "Seashell, if I found you on a beach, I'd keep you forever." Brian and Shelly spent the remainder of the evening talking. They spent more and more time together over the next few weeks and discovered that first impressions were not always accurate.

They began dating a few weeks after that party. Brian spent many moments writing Shelly beautiful notes—notes she still has to this day. They began attending their political science classes together, went walking, and spent time with friends and their Bible study group. They had fallen in love. The summer after their junior year, they were separated by distance, but the relationship sustained the break.

"Our senior year had its share of hiccups and we even broke up for a period of time," Shelly said. And it was during that time that Brian and Shelly were faced with some real life-changing events.

"Our faith was tested, but with the help of a very small but core Bible study and some very good friends, we found our way back to each other," she said. "We spent the rest of our senior year mostly inseparable and with much support."

Brian and Shelly graduated in May 1993 and wed in December 1994. Now married for 18 years and with three sons, including Westminster sophomore Christian '15, the pair has been blessed with "years of love and incredible moments."

"We know now that when we met our freshman year, God had plans for us that we never saw coming," Shelly said. "But that night when a girl met a boy at a graffiti party, that was our beginning. And we're grateful that Westminster continues to be part of our ongoing love story."

Jason Bonnar '95 & Amy Dietrich Bonnar '94
Married in 1997

I was a music education major at Westminster from 1990-94. As a piano major in the music department, one of my assignments was to be a teaching assistant for the Piano Methods class for other music majors. In this class I met Jason Bonnar, a music/biology major who was studying percussion (a polite way to say he was a drummer!), and he needed LOTS of assistance playing the piano! We became friends and, in 1993 at the Theta Chi beach party, started dating. I was the piano accompanist for his junior percussion recital. He helped me through Music Theory classes. In between classes, music rehearsals, his swimming and track practices, and sorority and fraternity activities we spent as much time together as possible. We have been together ever since! We got engaged at the finish line after he ran the Pittsburgh Marathon in 1996 and were married in 1997. We have two children, Bethany and Jameson. We are both music educators and live in Beaver. Our memories of our time together at Westminster are the best! We love coming back to campus with the kids and showing them where it all began.

Steven Begg '94 & Corinne Bentzel Begg '94
Married April 29, 1995

I was a scared young girl from York County, PA – 5 ½ hours away from family and friends. When my mom and I came to visit the campus, I felt God speak to my heart. I was reassured that this was the path I was to take, that this was the college for me. I knew before even entering town that I would spend the next four years of my life in New Wilmington.
He was a young man from the Pittsburgh area. As he walked across the lawns of Westminster, he also felt that this was home. A place to study and prepare for the future.
The day came when we had to say goodbye to our parents. He was at Russell, and I was at Shaw – on complete opposite sides of the campus. We went to orientation and tried to find that sense of peace amidst the turmoil and excitement for being in this new place in our lives.
On the second day we were invited to a professor's house for a cookout. Out of the entire freshman population, we ended up being selected to go to the same house. We walked home together, the beginning of a beautiful relationship.
Both of us had signed up for Quest and were biology majors. We spent quite a bit of time together studying for all of our classes. When my birthday came in October, I was surprised by my friends with a trip to Sharon to TCBY for cake. After we returned back to campus, Steve asked me to go for a walk by the lake. This is when he professed his love, and we have been together ever since.
It has been 22 wonderful years since that fateful fall. In that time, we have graduated from Westminster, were married at New Wilmington United Methodist Church, bought and sold a house, moved to Virginia, bought the next house, had two beautiful children (Alexander and Amanda), and have grown closer together.
We have felt God guiding us through life's challenges, and still thank Him for leading us together back in 1990.

Ian Turner '10 & Rose Hassell Turner '09
Married July 1, 2011

Our love story is a little unique.
We stepped on the WC campus as students for the first time in Fall 2005. We didn't meet before freshman convocation, but Ian's first encounter with me happened just moments after on the quad. A group of students gathered under the tree outside of Galbreath for a legacy family photo. I was the only student in the photo without my parents present (they had dropped me off for band camp), and not being a shy person, I introduced myself to everyone around me. Everyone except for the tall, handsome football player directly behind me who I took one look at and literally turned back around. He was intimidating! He told me later that he was really sad I didn't say hi to him, and I told him that I thought he wouldn't care at all. Good thing we were introduced by friends shortly thereafter, or who knows what would have happened?
Ian and I have been together since Sept. 30, 2005. We married on July 1, 2011, and currently reside in Harrisburg.

John Salvini '95 & Ciara Zalfini '96
Married June 17, 2000


Our story is very comical, as our last names are both unique and Italian, and only two letters different from each other. One of my first classes freshman year was a larger Ethics class, around 40 students, which is large for a Westminster class. The professor started to take attendance and when she got toward the end of the alphabet, she said "Salvini." I said, "No, it's 'Zalfini.'" She looked at her list and read, "Salvini." I said, "No, it's 'Zalfini.'" This went on at least two more times. She finally said "John Salvini." And then John, my now husband, said "that's me" with a big smirk on his face. I turned very red and was so embarrassed as a freshman in a class of many upperclassmen. My next class right after that was a large history class with about 40 students. John was again in that class, so I'm sure I was still many shades of red throughout that class.

John and I became friends and then later dated when he was a senior and I was a junior. The rest, they say, is history. Who would have thought that long ago in 1992 in that Ethics class, we would have eventually gotten married at Wallace Memorial Chapel and had three children (Gabrianna, Nico, and Alena)? Since our last names are so similar, people always laugh when they learn my maiden name, and it's always a very entertaining story when we share our little anecdote how we met at Westminster.

Michael Cosgrove Jr. '02 & Joy Kelewae Cosgrove '04
Married July 17, 2004


We met at a party at Phi Tau. We got married on July 17th, 2004. We have two little girls, Elizabeth and Lillian.
Steven Ruperto '08 & and Carsen Nesbitt Ruperto '08
Married May 12, 2012


Steven and Carsen met twice. The first time was in the first class of Political Science 101, first semester, freshman year. Both sat in the first row.

During introductions, Steve said he was from "Moon." Carsen could not understand why someone would say they were from the Moon (not being from western PA, she didn't understand the area's affinity for towns named after planets) and instantly thought Steve was a huge nerd. She moved to the back row the next class.

A few weeks later, the two both participated in the Westminster Theatre production of Kiss Me, Kate. Carsen thought Steven was an immature boy during a rehearsal and glared at Steven as he entertained other girls. Steven thought Carsen was a snob during that same rehearsal, so he confronted her about her attitude toward him.

Steve asked Carsen, "Why do you hate me?"
Carsen responded, innocently, "I don't hate you."
Steve replied, "You're lying."

He was right.

From that confrontation on, they were best friends. Steve sent a package to Carsen during her first semester of sophomore year which she spent with the Westminster at Oxford program, and it arrived on Thanksgiving Day. Perfect timing, as Carsen was homesick and England doesn't celebrate that holiday. They fell in love soon after she returned to Westminster, and the rest is history. They were most famous for writing opposite sides of the Holcad's "Political Pong" article while at Westminster. Also, Carsen was SGA President and Steve was SGA Treasurer. They did everything together.

Andy Winner '04 & Amy Schroder Winner '06
Married June 10, 2006


Westminster was the start of our love story. In many ways, Westminster is our love story.

Andy Winner was two years ahead of me, and so our paths didn't really cross until I was a sophomore. Of course, we knew each other, thanks to Westminster's small size, but we never really had a chance to spend time together until we both signed up for a Titan Traverse week-long camping trip in West Virginia with other college students just before school started. Andy and I had our own groups of friends, even within the camping group, but there was something about spending five days hiking and camping in the backcountry of West Virginia that helps you bond with everyone.

Unbeknownst to me, Andy had a pounding headache when he volunteered to pick blueberries one day on our trip. I just thought picking blueberries sounded like a fun way to spend my morning and, for my growling stomach, hurry breakfast along. So there we were, Andy hoping for solitude to calm his headache, and me, pretty much chatting with the blueberry bushes since my other "company" didn't seem too interested in what I was rambling on about. Not exactly the makings of a love story…or was it?

Well, something must've gone right on our trip because once we returned to Westminster we were both so excited to see each other! Andy asked me to be his date on the Gateway Clipper cruise that Westminster offered around the first weekend back to school. I gladly accepted. Between laughing and dancing and even a little hand-holding, our Westminster romance had begun!

As our relationship continued and got more serious, our time together at Westminster became very valuable to us. We had picnics on the quad, went on Sheetz dates, played tennis, went on walks all over campus and through New Wilmington, went to chapel together, went to sporting events—especially to cheer on my sister Melissa Schroder Dorosh '05 in her soccer games …the list goes on. But before we knew it, Andy graduated and moved to North Carolina to teach while I remained at Westminster.

My junior year, I was an R.A. in Jeffers. Andy was able to come back to visit during Homecoming and got to cheer me on when I won Westminster Homecoming Queen! He came back to visit a few more times, and even though long-distance dating was a challenge, we were grateful for our times when he rejoined me at WC to rekindle the romance.

Between my junior year and senior year, I traveled abroad to Argentina with my favorite profesora, Señora Camila Bari de Lopez, and four other students to work toward our Spanish degrees. While I was away, I was in a terrible accident where I was exposed to carbon monoxide for 10-12 hours. To make a very long story short, I was in a coma for nine days to help me recover from the carbon monoxide poisoning, but the doctors had little hope for my survival, much less my full recovery.

My parents took the two-day flight down as soon as they'd heard. Andy, who had to get his passport expedited, was just about to buy his plane ticket before he'd heard a positive report: I was improving. As much as he wanted to come to see me, he would have to wait to see me until I was able to return to Pennsylvania.

As I was coming out of the coma, the doctors told my parents (as translated by Señora Lopez) that they should try to get a hand squeeze or blink out of me by asking me familiar questions. At first they asked boring questions, like "Can you hear Mom? Did you hear Dad?" I'd blink, but not so much that they knew for sure I was responding to their questions. They had asked Andy if there was anything he wanted to tell me. Then I heard my mom say, "Andy wants you to get better so he can take you on a Sheetz date for slushies. Blink if you want to do that." Apparently, I blinked so emphatically, there was no doubt I was hearing and understanding, and that was the first indication that I would really be okay.

Fast forward to a miraculous full recovery, and I was on my way home to see Andy. He had moved back to Pennsylvania during the summer to get his master's degree, and I was thrilled to have him back in the same state as I was about to start my senior year at Westminster. On Sept. 28, 2005, I was desk sitting in Eichenauer when one of my friends, Steve Franklin '06, told me not to go anywhere until he gave me something. I was confused but didn't think much of it…until he came in at the end of my shift, and handed me a rose with a note attached to it. The note, in Andy's writing, said that he may or may not be on campus somewhere and that I should follow the clues to find out.

The clues took me on a tour of our favorite Westminster landmarks. The first clue sent me to the tennis courts, where Andy and I had spent countless hours volleying the ball across the net. My friend Beth Grubbs Wentz '05 handed me the second rose and the next clue, sending me to Browne Hall, which is where he picked me up on our first date, that romantic evening in early September on the Gateway Clipper. Waiting there for me was my friend, Leslie Underwood Dallas '05, with the next clue and another rose. Her clue led me to the chapel, one of our favorite places on campus. There, on the outside chapel steps, was my sister, Melissa, who handed me the last clue. It read: "The steps in front of you are the last ones you will ever have to take alone. When you're ready, come on in. I love you."

I think I yelled something like, "I'm ready!" and sprinted down the chapel aisle toward my husband-to-be. He handed me the rest of the roses and proposed to me in the chapel's sanctuary.

Just over eight months later, on June 10, 2006, I took the same path down the same aisle toward the same man. We couldn't imagine being married anywhere else than the Westminster chapel. As we said our vows and were pronounced husband and wife, Andy and I took the next step in our Westminster love story. We continued our celebration just a few steps away in the McKelvey Campus Center. As our friends and family gathered around us in our joyous day, we were so grateful to our Westminster family and home for all it had given us—especially each other.

Andy and I currently live about a half hour away from Westminster, so we take regular day trips to visit our alma mater. We still love stopping by the chapel and quad, and walking across campus and through town. I think we just love to see all of the things that formed our love story…because, in many ways, Westminster is our love story.