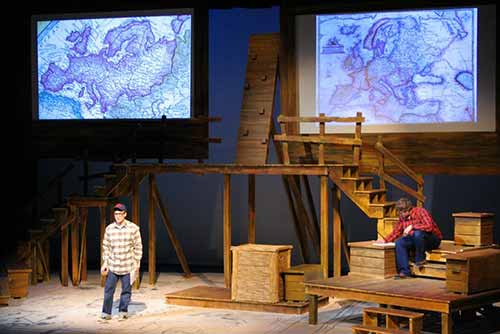 Theatre students explore theatre as a cultural institution while developing their craft in a rich educational setting and professional production environment. Most of the action happens in Westminster College's Beeghly Theater, an intimate 267-seat house. The proscenium stage is equipped with traps and a counterweight fly system. The adjoining scene shop, complete with power equipment and hand tools, provides space for the construction of sets. The lighting/sound control booth is equipped with a ETC Express 72/144 Control Console, a RAMSA sound mixer/control, digital recording, compact, and a multi-path amplification system. Most classes are held right in the theatre. Westminster offers courses in Acting, Voice, Theatre History, Dramatic Literature, Stagecraft, Lighting, and Design as well as courses in devised theatre and playwriting. The small student-to-faculty ratio guarantees individualized attention in the classroom and during productions. Students have interned at Disney World, Folger Theater in Washington, D.C., McCarter Theater in New Jersey, Pittsburgh Public Theater, The Pittsburgh Irish and Classical Theatre, and Pittsburgh Civic Light Opera.
Theatre students learn skills and that are respected beyond the classroom or stage, including critical thinking, research, analysis, oral/written communication, presentation, & problem solving. In 2001, Dr. Louis Catron of the College of William and Mary, identified twenty-five traits that make theatre majors attractive to employers, including: Self-Discipline, The Ability to Work Under Pressure, Adaptability and Flexibility, The Ability to Learn Quickly — AND Correctly, Initiative, Willingness to Work Cooperatively AND The Ability to Work Independently as just a few of the skills that make Theatre students attractive to employers inside and outside the profession.
Within the profession, just a few of the job opportunities are:
Actor
Artistic Director
Box Office Manager
Business Manager
Choreographer
Dramaturg
Director
Fight Choreographer
Designer (Lighting, Sets, Costumes, Sound, Properties, Effects)
Master Carpenter or Master Electrician
Playwright
Producer
Production Manager
Scene Painter
Stage Manager
Technical Director
Critic
Educator
Vocal Coach
Graduates are also are attractive to employers beyond the theatre. For example, they may find careers in the following fields:
Media Planner
Computer Design Specialist
Salesperson
Human Relations Specialist
Human Resource Specialist
Conflict Mediator
Public Relations Specialist
Admissions Director
Recruitment Officer
Development Officer
Advertising
Marketing Specialist
Facilities Manager
Announcer
News Correspondent
Broadcast Journalist
Public Affairs Officer
Public Relations Specialist
Communication Technology Specialist
Copy Writer
Sales Representative
Exhibit/Display Designer
Teacher
Student Affairs Specialist
Talent Manager
Tourism Program Director
Training & Development Specialist
Draftsman
Interior or Fashion Designer
Writer/Editor
What can you do with a Theatre degree?
Imagine yourself a playwright, actor, stage manager, set designer or lighting specialist.
Quick Facts
---
Theatre
Degree Offered
Bachelor of Arts
---