Environmental Science Major Received Ferguson Scholarship
Posted on Friday, July 11, 2014
Westminster College senior environmental science major Mara Sawdy received the Helen R. Ferguson Scholarship for excellence in environmental science
            The award was presented by the Bartramian Audubon Society at its award ceremony May 12 at Jennings Environmental Education Center. Professors who attended the ceremony with Sawdy included Dr. Helen Boylan, associate professor of chemistry, and Dr. Douglas Armstead, assistant professor of physics.
            The scholarship is awarded to a student majoring in environmental science who has demonstrated excellence in the areas of environmental science and education.
            Sawdy is a member of Sigma Kappa Sorority and Model United Nations. She also volunteers with the youth group at New Wilmington Presbyterian Church and works for the Regional Trail Corporation as informational staff for the Youghiogheny River Trail.  In recognition of her work on a Peace Studies minor, she has also recently been awarded the Barbara Ostrowski Scholarship.
            After graduation, Sawdy hopes to work with the conservation of endangered animals or with water quality and purification.
            Sawdy is a daughter of William and Mary Sawdy of West Newton and a graduate of Belle Vernon Area High School.
Contact Boylan at 724-946-6293 or email for additional information.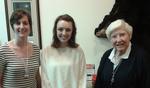 ---
More Stories