Westminster College to Celebrate Independence Day with Concert and Fireworks July 3
Posted on Thursday, June 26, 2014
NEW WILMINGTON, Pa. - Westminster College will host an old-fashioned Independence Day celebration with a free concert and fireworks Thursday, July 3, at 7:30 p.m. at Brittain Lake.
The annual concert features the River City Brass Band playing a variety of selections, with an emphasis on patriotic music. The evening will be capped by a fireworks display provided by Pyrotecnico.
The celebration is free to the public, but a free will offering will be taken.
Attendance in recent years has reached 10,000, so early arrival is suggested for this family-oriented event. Attendees are encouraged to bring blankets and lawn chairs for seating, as well as picnic baskets and refreshments. Food vendors will be on site.  In case of light rain, the concert will be held in Anderson Amphitheater.
Major sponsors for this year's event include the Caroline Knox Memorial Trust Fund and University of Pittsburgh Medical Center (UPMC), along with various community organizations and individuals.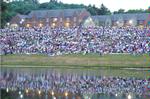 ---
More Stories