Westminster College Music Majors Selected for Pennsylvania Intercollegiate Honors Band
Posted on Wednesday, February 26, 2014
NEW WILMINGTON, Pa. - Ten Westminster College instrumental music majors have been selected to perform in the Pennsylvania Intercollegiate Honors Band Feb. 28-March 2 at Shippensburg State University.
Twenty-eight colleges and universities throughout the state will be represented. Other than Shippensburg State University, Westminster had the largest number of musicians selected for the ensemble, even though Westminster is one of the colleges with the smallest enrollment.
"We take great pride in always having a large representation from our program," said Dr. R. Tad Greig, chair of the department of music and director of instrumental activities. "Though Westminster College has a small enrollment in comparison to other colleges and institutions represented in the festival, our department of music enrollment is proportionally larger than most and we have a larger enrollment in music than many colleges two and three times our size."
The Westminster students will arrive at Shippensburg on Friday for their first rehearsal. Following this, Guest Conductor John Lynch, director of wind studies at the University of Georgia, will work with the brass and percussion sections, while the woodwind section members audition for specific seats within the sections. The brass section members will then complete their auditions. The students will also rehearse for the majority of the day Saturday, and until noon on Sunday. The weekend will end with a banquet and the concert at 2 p.m.
The Westminster Department of Music seeks to provide professional training to talented students who pursue careers as performers, teachers, church musicians, and scholars, and to offer experiences in music to all persons of the College and community, thereby enriching cultural backgrounds and developing musical skills. 
Contact Greig at 724-946-7279 or email for additional information.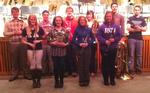 ---
More Stories