Westminster College Students Visit Highgate Cemetery in London
Posted on Friday, February 7, 2014
NEW WILMINGTON, Pa. - Twenty Westminster College students from the Fall Semester Concepts of Statistics course toured Highgate Cemetery in London during their study abroad experience. The course was taught by Dr. Carolyn Cuff, Westminster professor of mathematics.
The students collected data about the people buried by taking pictures of the gravestones.  The students learned how difficult it is to collect accurate data and what it means to carefully and correctly take a sample to be able to use the data. Statistically, they determined that there is an equal percentage of men and women buried in the cemetery, with each sex living approximately the same amount of time - on average 50 years.
Highgate Cemetery is the final resting place of Karl Marx; Doug Adams, author of Hitchhiker's Guide to the Galaxy; George Elliott and about 170,000 others. 
Email Cuff for additional information.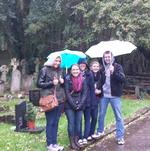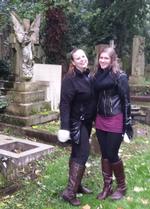 ---
More Stories