Westminster College Announces the 2014 Spring Semester Faires Faculty Forum Schedule
Posted on Monday, January 27, 2014
NEW WILMINGTON, Pa. - Westminster College's Faires Faculty Forum presentations will take place every Wednesday at 11:40 a.m. in Mueller Theater of McKelvey Campus Center (MCC). The next presentation is Jan. 29. Attendees are welcome to bring a bagged lunch to enjoy during the presentation. They also have the option to purchase lunch from the TUB, located on the bottom floor of MCC.
Click here for more information.
The Faires Faculty Forum was established in 1990 by Dr. Barbara Faires, Westminster professor of mathematics emerita, during her term as dean of the College and vice president for academic affairs.  Faculty members from all disciplines volunteer to present lectures on their current research, artistic productions, and scholarship of teaching and learning.  Each forum presents new ideas with innovative lecture techniques.
Contact Charlene Klassen Endrizzi, faculty development officer, at 724-946-7189 for more information.
ATTENTION: Due to weather conditions, Sandra Webster's Faires Faculty Forum, which was to be held Feb. 5, has been re-scheduled to a later date. Please mark Wednesday, March 19, from 11:40 a.m.- 12:40 p.m. as her newly scheduled Faires Faculty Forum date.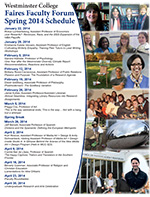 Click below to download the Spring 2014 Faires Faculty Forum schedule.
---
More Stories