Westminster College Professor Emeritus of English Edits Text about Robert Penn Warren
Posted on Wednesday, December 4, 2013
NEW WILMINGTON, Pa. - Dr. James Perkins, Westminster College professor emeritus of English, co-edited a volume of letters written in the last years of the life of author Robert Penn Warren.
Perkins was co-editor of Selected Letters of Robert Penn Warren, Vol. 6: Toward Sunset, at Great Height, 1980-1989. This volume, under the general editorship of Dr. William Bedford Clark of Texas A & M University, covers the last period of Warren's personal and professional life: he published three volumes of poetry, one nonfiction book, and a memoir, wrote correspondence about his thoughts on his declining health, and communicated with young poets.
Perkins's colleague and co-editor, Dr. Randy Hendricks, is a professor of English and dean of the College of Arts and Humanities at the University of West Georgia. Perkins and Hendricks also edited volumes 3, 4 and 5 of the Selected Letters of Robert Penn Warren as well as For the Record: A Robert Drake Reader and David Madden: A Writer for All Genres.
Perkins, who has been with Westminster College since 1973, earned an undergraduate degree from Centre College, a master's from Miami University, and Ph.D. from the University of Tennessee.
Perkins taught creative writing courses at Westminster for 30 years. During the fall term of 1998, he was a Fulbright Visiting Professor at Seoul National University in Korea. Perkins earned the 2006 Westminster College Distinguished Faculty Award and was previously honored as a Henderson Lecturer and a McCandless Fellow. His publications include: The Cass Mastern Material: The Core of Robert Penn Warren's "All the King's Men"; Snakes, Butterbeans, and the Discovery of Electricity, a short story collection; and Southern Writers at Century's End, co-edited with Jeffrey J. Folks.
Contact Perkins at 724-946-7342 or email for additional information.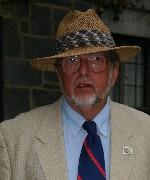 ---
More Stories