Westminster College Wind Ensemble to Perform with Hampton Area School
Posted on Wednesday, February 20, 2013
NEW WILMINGTON, Pa. - The Westminster College Wind Ensemble will perform Feb. 28 at 7 p.m. at the Hampton Area High School in Allison Park.
Under the direction of Dr. R. Tad Greig, associate professor of music and chair of the department, the Wind Ensemble will perform a combined concert in the Hampton School District.  The Westminster Wind Ensemble will follow performances by the Hampton Ninth Grade Band, Senior High Symphonic Band and the Senior High Wind Ensemble.
The idea for a combined performance was offered by Greig at the beginning of the year to strengthen the connection between outstanding high school band programs and the Westminster music program.
"The Hampton Area School District has an outstanding music program. Its bands have been guest performers at state and national conferences and events. They are simply amazing. I am additionally honored to share our own outstanding musicians with the Hampton schools and community," Greig said. "I have had numerous students from Hampton in my ensembles and they have always been fine musicians and amazing people."
The Westminster College Wind Ensemble is comprised of 45 musicians selected through audition at the beginning of each year.  This ensemble has been invited to be a guest performance ensemble for the Pennsylvania Music Educators Association State Conference in April.  This is the third time that the Wind Ensemble has achieved this distinction.
Nearly one-fourth of the Westminster students are involved in the music program.
Visit www.westminster.edu/culture for information about upcoming events.  
Contact Greig at (724) 946-7279 or email for additional information.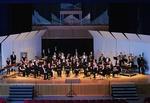 ---
More Stories