Westminster College Celebrity Series to Present A Christmas Carol Dec. 14
Posted on Thursday, November 29, 2012
NEW WILMINGTON, Pa. - The Westminster College Celebrity Series will present A Christmas Carol Dec. 14 at 7:30 p.m. in Orr Auditorium.
The Nebraska Theatre Caravan returns to Westminster College for this stage production of Charles Dickens' holiday classic. It features a spirited ensemble of 28 performers who bring the tale of redemption to life on a magical set created by noted designer James Othuse.
A full array of timeless carols such as "God Rest Ye Merry Gentlemen," "Away In a Manger" and "Here We Come A-Wassailing" are interwoven within the classic story of a tight-fisted, middle-class merchant Ebenezer Scrooge and all the beloved characters from Dickens' 1843 novel.
The show is sponsored by Giant Eagle.
Tickets are still available from the Celebrity Series box office at (724) 946-7354.  Click here for additional information.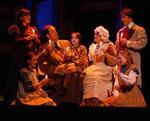 ---
More Stories