Education Professor Presented at County Reading Association
Posted on Tuesday, November 23, 2010
Dr. Amy Camardese, associate professor and chair of Westminster College's Department of Education, presented at the Lawrence County International Reading Association (IRA) meeting Nov. 9.
Camardese, a past president of the Trumbull County (Ohio) IRA, spoke on "Reading Strategies for Struggling Readers" to an audience of about 40 elementary school teachers, librarians, and administrators.
"I shared reading strategies that benefit not only the struggling reader, but also readers of any level," Camardese said. "This is often referred to as UDL or Universal Design of Learning. For example, I showed them how to use Chinese shadow puppets to strengthen reading, writing, and creativity, and shared Japanese storytelling cards called Kamishibai. In addition, several graphic organizers were used to develop comprehension, development of character, and strengthening of vocabulary."
Camardese, who has been with Westminster since 2001, earned an undergraduate degree from Ohio University, master's from the University of Pittsburgh, and Ph.D. from Kent State University.
Contact Camardese at (724) 946-7183 or e-mail camardah@westminster.edu for additional information.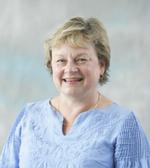 ---
More Stories