AV Services to Conduct E-Recycling Event April 24
Posted on Thursday, April 15, 2010
Westminster College's Audio Visual Services will conduct an electronics recycling drive Saturday, April 24, from 9 a.m.-noon at the Hoyt Science Resources Center loading dock.
Items collected will be recycled by A GreenSpan Computer Recycling, a certified and approved E-Steward recycler, meaning they have been approved as an electronics recycler that responsibly reuses and/or safely breaks down the items within North America. The nominal fees collected for each item help cover that expense.
"We were asked why there was a charge for the service," said Rachael Hoffman, AV assistant operations manager. "Our department did a lot of research and found that many organizations that collect used electronics for free export the items they collect to other countries. This leads to a black market and creates hazardous circumstances for individuals who come in contact with the materials contained inside the electronics."
Hoffman, a junior neuroscience major, is a daughter of Walter and Patricia Hoffman of Greenville and a graduate of Reynolds High School.
"We want people to be responsible technology users," added Gary Swanson, director of Westminster's AV Services. "That includes responsible recycling when it's no longer needed. During the fall recycling event, we collected 1,850 pounds of used electronics."
Contact Swanson at (724) 946-7188 or e-mail avstaff@westminster.edu for additional information. Visit www.westminster.edu/resources/av/pdf/EquipmentRecyclingDrive.pdf for a schedule of fees for the recycling drive. Contact A GreenSpan at (866) 904-7726 for additional information about electronics recycling.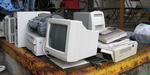 ---
More Stories