Theatre Westminster to Host "Two on Tap" to Benefit Theatre Department
Posted on Thursday, March 25, 2010
Theatre Westminster will host "Two on Tap: A Tribute to Song and Dance," a benefit for Westminster's Theatre Department, Wednesday, April 7, at 7:30 p.m. in Orr Auditorium.
Veteran Broadway performers Ron DeStefano and Melissa Giattino will be joined by Westminster students in an evening of fancy footwork and beautiful melodies from Broadway's Golden Age. The program includes "I've Got Rhythm," "The Glory of Love," and "Fascinating Rhythm," among others.
Westminster students are:
- Senior English major Amanda Ehrhardt is a daughter of Edward and Celeste Ehrhardt of Gibsonia and a graduate of Hampton High School.
- Junior theatre and communication studies major Chelsea Gallo is a daughter of Duane and Kelly Gallo of Perryopolis and a graduate of Frazier High School.
- Freshman music education major Hannah Jaskiewicz is a daughter of Valentine and Carolyn Jaskiewicz of Erie and a graduate of Harbor Creek High School.
- Junior music education major Ali Pabrinkis is a daughter of Karen Dodson, Pittsford, N.Y., and John Pabrinkis, Rochester, N.Y., and a graduate of Pittsford Mendon High School.
- Sophomore music performance and business administration major Sara Seiberling is a daughter of William and Leah Seiberling of Huntingdon and a graduate of Huntingdon Area High School.
Tickets are $15 and are available through Westminster's Celebrity Series Office at (724) 946-7354.
Contact Dr. Scott Mackenzie, Westminster associate professor of theatre, at (724) 946-6238 or e-mail mackensa@westminster.edu for more information.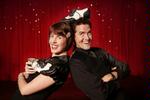 ---
More Stories