Business Majors Place in Top 40 in International Competition
Posted on Friday, October 9, 2009
Westminster College business administration majors Daniel Argiro and Travis Leech ranked in the top 40 by achieving a 35.2% return on equity in The Business Strategy Game for the week ending Oct. 4.
Working together as "Team Competitors Edge," the two are students in the "Strategic Management" capstone class for business majors taught by Dr. Jacque King, Westminster assistant professor of business.
Argiro, a junior, is a son of Samuel and Nancy Argiro of New Castle and a graduate of New Castle High School.
Leech, a senior, is a son of Bernard and Cynthia Leech of Johnstown and a graduate of Bishop McCort High School.
This semester's competition involves nearly 2,600 teams from more than 170 colleges and universities around the world. Each week, the best-performing teams are measured on four performance variables: overall score, earnings per share, return on equity, and stock price.
The Business Strategy Game is an online exercise where class members are divided into teams and assigned the task of running an athletic footwear company in competition against companies managed by other class members. Company operations parallel those of actual athletic footwear companies who compete in a global market, selling athletic footwear in four geographic regions-Europe-Africa, North America, Asia-Pacific, and Latin America.
All aspects of The Business Strategy Game parallel the functioning of the real-world athletic footwear market, allowing students to think rationally and logically in making decisions and receive valuable practice in making a variety of business decisions under circumstances that mirror real-world competitive conditions. Visit www.bsg-online.com for more information.
Contact King at (724) 946-7163 or e-mail kingjl@westminster.edu for additional information about Westminster's participation.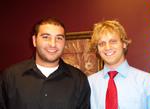 ---
More Stories