Denny Wolfe '97 Earns Westminster AV Media Support Services Award
Posted on Tuesday, October 28, 2008
Denny Wolfe, a 1997 Westminster College graduate and three-time National Sports Emmy Award winner for his work at ESPN, earned Westminster's 2008 Outstanding and Dedicated AV Media Support Services Award.
Wolfe, who works with ESPN's SportsCenter and Sunday NFL Countdown, has earned six additional Emmy nominations for his contributions to NHL2Night, College Gameday, Outside the Lines, and SportsCenter.
Wolfe, a broadcast communications major, worked in Westminster's AV Services Department from 1994-1997. Following graduation, he became a sports writer for the Valley News Dispatch in Tarentum. He joined ESPN as a television production assistant and was promoted several times, most recently to feature segment producer.
Wolfe and his wife, Janet, and daughter, Avery, reside in Bristol, Conn.
The award is open to all qualifying Westminster alumni and is an annual presentation that coincides with International Audio Visual Week. Contact Gary Swanson, Westminster director of Audio Visual Services, for award criteria or information on 2009 nominations, e-mail avstaff@westminster.edu or call (724) 946-7188.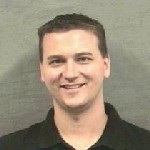 ---
More Stories