Dr. Richard H. Dorman was installed as the 14th president of Westminster College Saturday morning in front of nearly 1,000 guests in Orr Auditorium.
Dorman's inaugural address, "Advantage: Westminster," focused on how Westminster College can "provide its graduates with an educational advantage, and what we as a teaching and learning community must do in the future to insure that our competitive position continues to strengthen over time."
He listed three factors that contribute to "an exceptional education" at Westminster: 1. the role of the individual teacher as the greatest single source of student success and future achievement; 2. the concept that the liberal arts education is most adaptive to addressing multiple learning styles and talents; 3. the notion that the nature of the total learning experience provided is highly correlated to significant personal change.
"The most critical factor in the success of our current and future students, and what, in my judgment, makes Westminster such a special place: that is our faculty," Dorman said.
He shared a number of stories about the lifelong impact caring professors have had on students.
"We already do an outstanding job of engaging our students," Dorman said. "Low attrition and high graduation rates with a top-ten national ranking in graduation rate performance among all colleges and universities, according to U.S. News, suggest we must be doing something right. The high affinity our alumni feel toward the College as evidenced by alumni participation rates in annual giving to Westminster, which well exceed the national average, further attest to the positive work done here over the years. And the many examples of how we involve our students in service-learning projects, student research, leadership opportunities in dozens of student organizations, and practical experiences such as our Biology Field Station and the student-run TV and radio stations are just a few examples of meaningful avenues of engagement which contribute to the change outcomes our students enjoy."
Dorman shared how Westminster's liberal arts environment nurtures and enhances the "multiple and varied intellectual gifts our students bring to their Westminster education."
"If one is to subscribe to the belief that intelligence can be measured across multiple dimensions and not just in terms of IQ, one could argue that the small liberal arts environment in which we work is uniquely qualified among the plethora of higher education organizational types to coax and nurture the development of these intelligences given the broad mix of academic and co-curricular offerings we provide to all of our students," he said.
"Westminster clearly demonstrates a capacity to compete with the elite brethren in eventual life outcomes," Dorman added. "One need only look at the many success stories of Westminster alumni, starting with our own Board of Trustees, to understand that this is true."
Dorman discussed the next strategic plan, "Advantage: Westminster," will "identify three to six broad initiatives collectively agreed upon to raise Westminster on its continuing upward trajectory."
He said Westminster will build upon its strong "experiential education efforts" and provide "a clear link between theory and practice" which he dubbed "Liberal Learning ... Applied." Westminster's Drinko Center for Excellence in Teaching and Learning is expected to continue to play a crucial role in that initiative.
Dorman also discussed the need for Westminster, which boasts a 98% placement rate for its graduates, to continue to enhance its internship programs while serving as an economic engine to our economy and the region. "This potential program, if successful, would enhance our success in not only helping our students build a transcript, but help them build a resume as well."
He also examined Westminster's need to define and assess outcomes while reinforcing its commitment to professional growth.
Dorman began his Westminster presidency on July 1. He previously served as vice president for institutional advancement at Otterbein University since 1996 and oversaw the most successful fund raising in Otterbein's history.
He was assistant vice president for development (1994-1996) and director of health sciences development (1990-1994) at the University of Louisville; an executive with the Penn State Alumni Association (1987-1990); director of marketing for Prestige Expositions (1983-1987); and director of choral activities at Red Lion Area (Pa.) High School (1975-1979).
Dorman earned an undergraduate degree in music education from Susquehanna University, a master's in counseling/college student personnel services and his doctorate in higher education administration from The Pennsylvania State University.
He is a member and elder in the Presbyterian Church (USA) and is active in the community, having served a number of leadership positions in civic, service, and educational organizations.
Dorman and his wife, Beverly, are the parents of a son, Daniel, and a daughter, Kelly.
Visit http://www.westminster.edu/about/president/president_overview.cfm for additional information about Dr. Dorman.
Saturday's ceremony included vocal and instrumental selections from Westminster's student choirs and ensembles; and an academic processional of Westminster faculty, administrative staff, Board of Trustees, and delegates from other colleges and universities.
The Rev. Dr. David G. Dawson, a 1969 Westminster graduate and executive presbyter of Shenango Presbytery, gave the invocation.
Inspirational readings were presented by Jeannette Hubbard, Westminster director of diversity services, and Kayla M. Withers, a junior sociology major from Conneaut Lake.
Perspectives on Westminster were given by: Dr. Alan G. Gittis, Westminster professor of psychology and chair of the faculty; Student Government Association President Ashley L. Carnahan, a senior business administration major from Greensburg; Westminster College Alumni Council President Melissa Ruefle Spencer, a 1998 Westminster graduate; administration representative Donald E. Shelenberger, a 1971 Westminster graduate and College business manager; and Connie C. Davis, president of the Westminster College Support Staff Organization.
Westminster trustee Leonard M. Carroll, who chaired the presidential search committee, offered reflections on the Westminster presidency; Debora Swatsworth Foster, a 1974 Westminster graduate and chair of the Board of Trustees, conducted the installation; and vice chair of the Board of Trustees John T. Weisel, a 1979 Westminster graduate, gave closing remarks.
Dr. James T. Harris III, president of Widener University, introduced Dr. Dorman for his inaugural address.
The invocation was given by the Rev. James R. Mohr II, Westminster chaplain.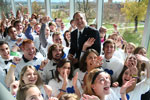 Click below to read the inaugural address of Dr. Richard H. Dorman, 14th President of Westminster College.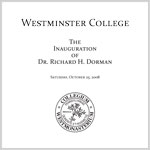 Click below to view the inauguration program of Westminster's 14th President.