Westminster College Announces Audio Visual Award Winner
Posted on Friday, May 2, 2008
Katie Hilliard, a senior individual interdisciplinary major, received the Westminster College 2008 Audio Visual Award for exceptional work to the campus and community.
Hilliard is a daughter of Wayne and Susan Hilliard of Zelienople and a graduate of Seneca Valley High School.
Gary Swanson, Westminster College director of audio visual services, said, "An annual ballot of nominees was reviewed by a panel of selected faculty, staff, administrators, and alumni. Katie's nominated work was deemed as 'most outstanding.'"
Hilliard served as publications and public relations manager in the audio visual department since May 2007, coordinating and initiating the department's new poster printing service.
"Ms. Hilliard has effectively run a smooth operation in the first year of this service, determining supplies, materials, and equipment needed for each job," Swanson added. "She appropriately coordinated services with outside vendors for special projects, and managed the production schedule and job orders to expedite timely processing of all jobs. As the person responsible for the design of all audio visual publications, her efforts in developing an entire visual package for all department print materials deserves special recognition."
Hilliard received a framed certificate and bookstore gift certificate. Her name will be added to the permanent award plaque on display in the audio visual department.
Contact Swanson at (724) 946-7188 or e-mail gswanson@westminster.edu for additional information.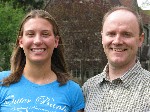 ---
More Stories